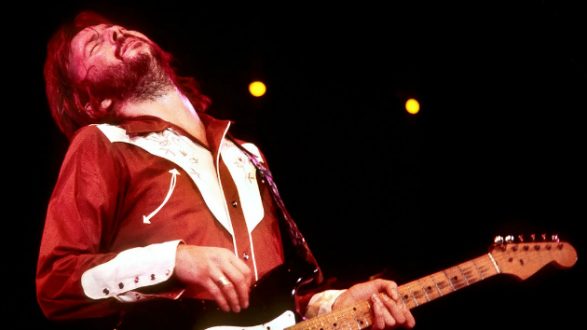 Courtesy of TIFFThe upcoming rock documentary Eric Clapton: Life in 12 Bars will get its world premiere at the 2017 Toronto International Film Festival, which runs from September 7 to September 17. The film, which was directed by Oscar-winning producer Lili Fini Zanuck, takes an intimate look at the British guitar legend's life, including his traumatic childhood, his rise to rock stardom, his struggle with drug addiction and the tragic 1991 death of his young son Connor.
According to official Clapton fan site WheresEric.com, the movie tells Clapton's story through his own words and music. The flick features extensive interviews with Eric, as well as with his family members, friends, musical heroes, collaborators and admirers, including the late legends B.B. King, Jimi Hendrix and George Harrison.
In creating the documentary, the production team was given wide access to a wealth of archival materials, including performance clips, behind-the-scenes footage, photos, posters and other memorabilia, as well as Eric's handwritten letters, artwork and diary entries.
The official premiere date for Life in 12 Bars is expected to be announced on Tuesday, August 22. The documentary also will air on Showtime next year.
Zanuck's previous directing credits include the 1991 crime drama Rush, which featured Clapton's Grammy-winning track "Tears in Heaven." Eric also wrote and performed on the film's score.
At the same time that the Toronto International Film Festival is taking place, Clapton will be playing a series of U.S. concerts in New York City and the Los Angeles area. Here's his full tour schedule:
9/7 -- New York City, NY, Madison Square Garden
9/8 -- New York City, NY, Madison Square Garden
9/13 -- Inglewood, CA, The Forum
9/15 -- Inglewood, CA, The Forum
9/16 -- Inglewood, CA, The Forum
9/18 -- Inglewood, CA, The Forum
Copyright © 2017, ABC Radio. All rights reserved.