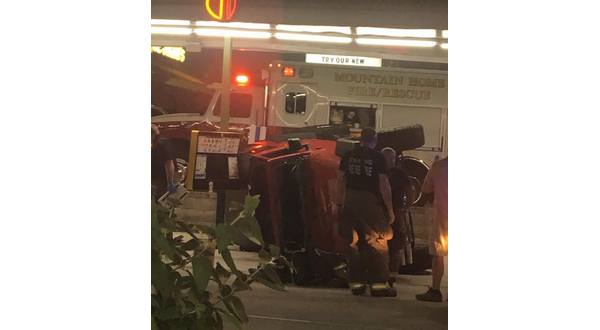 (Images courtesy of  Anna Marcum)
A rollover accident Monday night on Business Highway 62/412, in Mountain Home. resulted in a two-vehicle crash with one vehicle coming to rest in a stall at the Mountain Home Sonic. An Oakland woman, 42-year-old Judy Cobler, was airlifted to an undisclosed hospital with what is being called non-life threatening injuries. Cobler is expected to be charged with DUI-drugs, careless driving and no seatbelt.
Mountain Home Police Officer Zach Byrd was a witness to the entire accident as he was pulling out of the parking lot of Orscheln Farm and Home. According to Byrd, Cobler was attempting to make a left-hand turn out of McDonald's and struck a westbound vehicle. After striking the victim's vehicle, she lost control of hers. The impact of the crash sent Cobler's vehicle back through the McDonald's parking lot, jumping the brick wall separating Sonic and McDonald's and rolling, coming to rest on the passenger side in a stall at Sonic.
Byrd immediately pulled into the Sonic to check on Cobler and discovered she was trapped. She had to be extracted by the Mountain Home Fire Department. She was transported to Baxter Regional Medical Center and then airlifted to a hospital in Springfield. Byrd reports she was coherent and had movement of her extremities before transport.
The driver of the vehicle Cobler hit apparently stated she looked like she was unconscious before the impact. He was uninjured at the time of the 7:48 p.m. accident.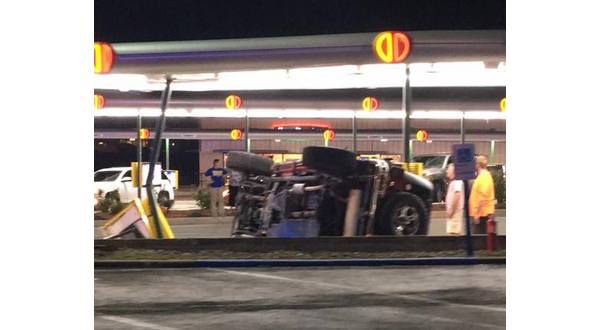 WebReadyTM Powered by WireReady® NSI