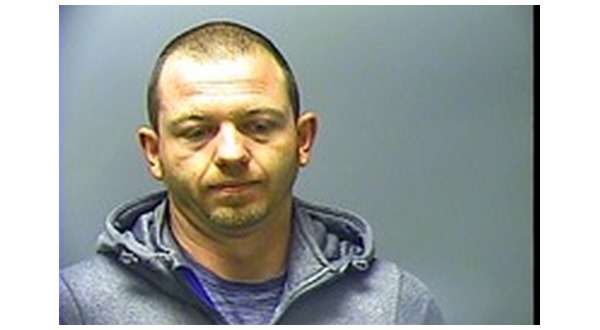 A rural Mountain Home man awaiting trial in Newton County on two counts of internet stalking of a child and one count each of sexual assault, possession of drug paraphernalia and residential burglary, all felony offenses, now has a laundry list of new charges in Baxter County.
Baxter County Sheriff John Montgomery says 31-year-old Christopher Ryan Collins has been arrested and is being charged with numerous crimes in connection with reported break-ins at three separate homes and the theft of cash, credit cards, and other items.
Sheriff Montgomery says his office took a report on September 30th from residents along County Road 782 indicating approximately $13,000 in cash was missing from their home. At the time of the initial report, the cash was the only property believed missing. On November 2nd, the victims were contacted by their credit card company regarding suspicious transactions at numerous locations. It was then realized the victim's credit card had also been stolen in the burglary. The stolen credit card had been used in seven locations in Mountain Home, one in Flippin, and three in Branson for purchases totaling just under $3,000.
Sheriff's investigators gathered information from employees at the stores where the stolen card had been used, including sales receipts, descriptions of items purchased, dates and times, and the description of the suspect, as well as video surveillance where available. At one of the locations in Mountain Home, the sales clerk had obtained a telephone number from the suspect who indicated his residence was on County Road 782, directly across the street from the victim's residence. The photo of the suspect, Collins, was compared with video surveillance footage and found to be the same person.
A search warrant for Collins' residence was served Wednesday morning. Collins was found inside the residence and taken into custody. Numerous items were found in the home obtained via the stolen credit card. Also found in the residence were a chain saw and a miter saw identified by a previous report as having been stolen from yet another separate home on County Road 782 on October 4th. Along with the stolen property, a number of articles of drug paraphernalia were found and seized.
Collins had also been identified as the suspect in a third case reported on October 25th. He was alleged to have entered a home on Cranfield Road, uninvited, and used a computer while nobody was there. The home belongs to one of Collins' former employers.
Collins was booked into the Baxter County Detention Center and is being charged with two counts of residential burglary, and breaking or entering, 12 counts each of forgery and fraudulent use of a credit card, along with one count of theft of property. He also faces five counts of misdemeanor offenses.
He is being held in custody in lieu of $45,000 bond and will appear in Baxter County Circuit Court to answer to the charges later this month.
Online information from the Administrative Office of the Courts indicates Collins was to appear before Circuit Judge John Putman before Wednesday to accept or reject the plea offer from the state regarding the Newton County charges before that case goes to jury trial.
The Harrison Daily Times reported in June Newton County authorities were investigating a reported sexual assault of a girl after her aunt went into her room and found a naked man, later identified as Collins, in her bed. The aunt says the man fled out an open window.
A Newton County Sheriff's investigator determined the girl was in contact with Collins on Facebook Messenger and adult-oriented sites chatting and sending pictures online.
Collins had been free after posting a $50,000 bond in connection with the Newton County charges.
WebReadyTM Powered by WireReady® NSI