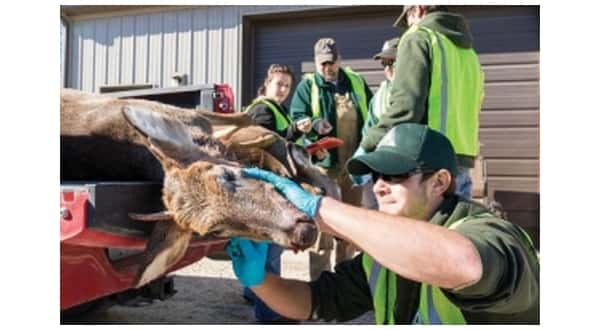 Photo by MDC
Ozark County hunters who successfully harvest a deer during firearms season's opening weekend Saturday and Sunday are required to present their deer to an area chronic wasting disease (CWD) sampling station. Checking the deer at a sampling station will allow tissue samples to be taken to test for the disease.
The closest sampling stations for Ozark County hunters include the Dora School off Highway 181, the Gainesville High School parking lot on Bulldog Drive, Mark Twain School at Highways 160 and 125, and the MDC Ozark Regional Office on Joe Jones Boulevard in West Plains. Sampling stations will open at 7:30 a.m. and will continue through at least 8 p.m. over the two-day span.
The Ozark County Times referencing a Missouri Department of Conservation release says opening weekend is the most popular two days of hunting of the firearms hunting season. On these two days, hunters take about a third of the state's total annual deer harvest, usually around 275,000 deer.
MDC Wildlife Disease Coordinator Jasmine Batten says focusing on this key weekend gives the department the best opportunity to collect the most tissue samples during a very concentrated time period. Prior to conducting mandatory sampling for the first time last year, the MDC collected about 7,600 tissue samples through voluntary sampling over the entire deer season. Thanks to deer hunters, last year 19,200 samples were collected during opening-weekend mandatory sampling.
Deer must be presented by the hunter who harvested the animal, and hunters should be prepared to identify the location within the county in which the animal was killed. Deer should be field dressed before being presented at a sampling station. Hunters have the option of presenting just the deer head with 6 inches of neck attached or the whole deer. For bucks bound for a taxidermist, the cape may be removed prior to being taken to a sampling station, as long as 6 inches of the neck is left attached.
Hunters are encouraged to telecheck their deer before going to a hunting station and have their completed permit information ready for MDC workers. Hunters will be asked to point out the harvest location on a map. MDC encourages hunters to position the deer in the vehicle so the head and neck are easily accessible.
MDC is also offering voluntary CWD sampling throughout the entire season at more than 55 participating taxidermist and designated MDC offices. Find more information at mdc.mo.gov/cwd MDC
WebReadyTM Powered by WireReady® NSI