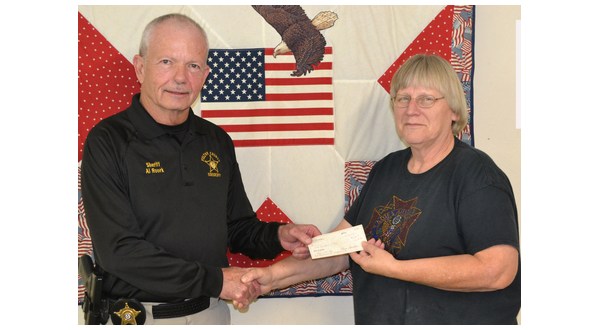 Fulton County law enforcement officers and community leaders are gearing up for the first Shop with a Cop Program for Fulton County. The Shop with a Cop Program pairs children who may not have a Christmas or have never shopped for gifts with a local law enforcement officer. On December 9th,   children will be transported by the officers to the Ash Flat Wal-Mart to shop for gifts for themselves and family members.
The Fulton County program was initiated last December after Sharp County held a very successful event for 105 children. Sheriff Mark Counts and John Kunkel from First Community Bank met with Sheriff Al Roork and Fulton County Fair Manager Carolyn Lewis and offered their help in starting a program in Fulton County.
Representative Scott Baltz, Senator Linda Collins-Smith, North Arkansas Electric Cooperative, Wal-Mart at Ash Flat, First Community Bank and John Kunkle each pledged funds for the Fulton County project. After hearing about the program, the Saddle Baptist Church started a monthly donation for the fund, and community organizations and individuals have made donations. However, there is still a need for funds for the program. The goal is to involve 40 to 50 children and to have funds for $100 per child.
Businesses, organizations and individuals who want to make a donation may leave it at the Fulton County Sheriff's Office or the Fulton County Fair Office. Donations may also be mailed to Shop with a Cop, Post Office Box 910, Salem AR 72576.
For more information on the program,contact the Fulton County Sheriff's Office or call the Fulton County Fair Office at 870-895-5565.
Fulton County Sheriff Al Roork accepts a check from Aemi Thompson, President of the Salem VFW Post 9777 Auxiliary, for the Fulton County Shop with a Cop Program.
WebReadyTM Powered by WireReady® NSI