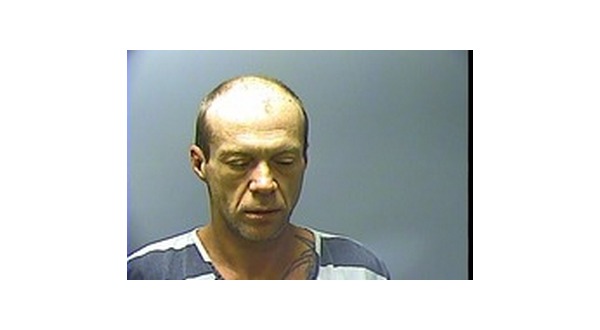 A Mountain Home man, 46-year-old Ronald Aaron Love, was arrested by Gassville Police Sunday afternoon on multiple felony charges after an alcohol-fueled rage ended with Love ramming his vehicle into another vehicle causing substantial damage to a garage and rendering the victim's vehicle inoperable.
According to an incident report from the Gassville Police Department, Love was transported to the Baxter County Detention Center where, according to the electronic jail log, he faces 14 charges related to the incident. Love is being held in the Baxter County Detention Center on a $100,000 bond.
According to the incident report, Gassville police received a call at 4:55 Sunday afternoon regarding a fight in progress at 41 Sagewood Court. The reporting officer was aware of previous confrontations at the home and requested backup. When the officers arrived on the scene they noticed extensive damage to the residence and several people in a state of confusion. Love was in a vehicle and made to stop. At that point he got out of the vehicle, walked to the front of it and told officers to take him to jail.
Officers noticed an odor of strong intoxicants on Love's breath.
After Love was secured, due to statements made by several victims at the time, officers learned of the events leading to the destruction of the garage. One victim said Love struck him in the right eye after an apparent comment made by the victim set Love off. After the altercation with the first victim, Love allegedly made an attempt to attack a second victim with an ax handle. The second victim was able to wrestle the ax handle away from Love, which made Love even angrier. Love then got into his vehicle and rammed the front of the residence several times. While ramming the residence he came in contact with a third victim's vehicle, destroying the garage.
The owner of the vehicle said she feared for her safety and that Love was trying to run her over. She said she had to jump out of the way of his vehicle but was struck by his vehicles door and mirror causing her injury.
A fourth victim was standing on a wooden ramp in front of the house. The ramp buckled during the impacts on the house and was said to have caused injury to that victim as well.
There were children inside the house at the time. None of them sustained any injuries.
Although there were multiple injuries with the other victims, all refused medical treatment at the time.
Love is facing three felony counts of first degree criminal mischief, four counts of second degree battery, terroristic threatening  and multiple misdemeanor charges.
Love is expected to appear in Baxter County Circuit Court.
WebReadyTM Powered by WireReady® NSI