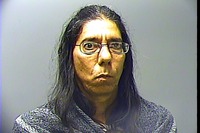 A Little Rock man, 53-year-old Michael Armijo, has been arrested following an incident in Lakeview last month leading to a felony charge of sexual indecency with a child.
Baxter County Sheriff John Montgomery said Friday the incident occurred November 24th at the Lakeview Roadside Park.
The complainant told deputies she and her 13-year-old daughter were walking their dog on the trail following a man wearing a white shirt and a short blue skirt. The male hurried on ahead and when she and her daughter walked around a corner in the trail, the male was standing there with his skirt up exposing himself.
An affidavit was filed, and a warrant obtained for Armijo's arrest. On Thursday morning, he turned himself into the Baxter County Detention Center.
Armijo posted a $5,000 bond and was released pending his appearance in Baxter County Circuit Court later this month.
WebReadyTM Powered by WireReady® NSI