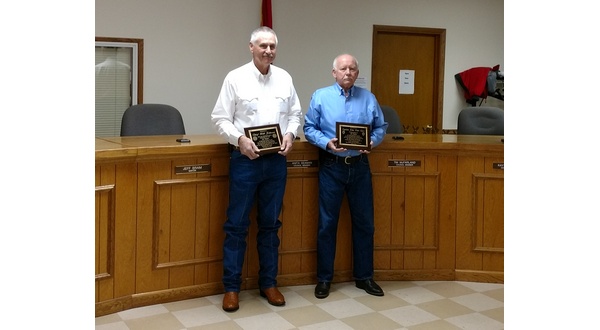 Gassville Fire Chief Bill Johnson and Police Captain J.D. Tyler
The year is 1977. Jimmy Carter succeeds Gerald Ford as the 39th President of the United States, the movie Star Wars is released and locally John Dale Tyler becomes a patrol officer for the Mountain Home Police Department.
The Gassville Police Captain is hanging up his blues and badge on January 4th after a 41-year career in local law enforcement.
After more than 22 years with the Mountain Home Police Department, Captain Tyler joined the Gassville department in 1999, where he would answer the second shift call for more than 18 years. He says he believes his combined years of service are the longest of any city, county or state officer in Baxter County.
After working at Bull Shoals Caverns and Mountain Village 1890 and a Sinclair gas station at Midway in the 1970s, Tyler says he was looking for a career. He had graduated from Cotter High School, after attending two years at Gassville when the town had its own school.

Listen:


When he signed on at the Mountain Home Police Department, he joined 11 other officers. That number included the chief, criminal investigators and patrol officers like Tyler. It was the beginning of what would be 37 years of service as a patrol officer between the two departments.
His career began working third shift at night.

Listen:


Today, Tyler works second shift from 3:00 until 11:00. He says the traffic and the number of people compared to 1977 has just exploded.

Listen:


And naturally, with increased population, has come an increase in crime.
As his days wind down fighting crime, Tyler says a lot of folks are asking him what he plans to do beginning January 5th.

Listen:


Tyler says he doesn't have a bucket list. He's just going to take retirement as it comes, thankful to the citizens of both Gassville and Mountain Home he will have served for 41 years, two months and eight days.
WebReadyTM Powered by WireReady® NSI