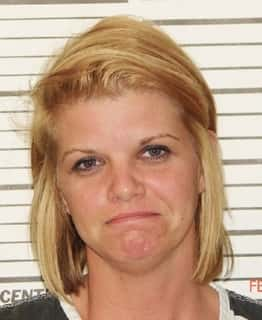 A Gainesville woman, 38-year-old Misty Gant, has been sentenced following an incident in early 2016 involving a high-speed chase and assaulting a police officer while intoxicated.
The Ozark County Times reports Gant entered a guilty plan in circuit court to assault of a law enforcement officer and driving while intoxicated.
Gant appeared before Circuit Judge Craig Carter on December 6th and was sentenced to a 120-day institutional drug treatment program in the Missouri Department of Corrections. A five-year and a four-year back-up sentence are also ordered.
The charges stem from an incident in which Gant while driving drunk, drug an Ozark County deputy down a highway with her car in an attempt to flee the officer during a February 23rd, 2016 incident. Gant is charged as a persistent offender in the felony-level DWI in this case, based on two previous DWI convictions, one in Greene County in 2008, and another in Howell County in 2011.
The sentence came as part of a plea agreement with the state. As part of the agreement, charges of resisting a lawful stop, operating a vehicle without a license, possession of marijuana and possession of drug paraphernalia were dropped.
According to a probable cause affidavit originally prepared by Ozark County Sheriff Darrin Reed, Deputy Tiffany Fox called Sheriff Reed on February 23rd and told him she had been run over by Gant's vehicle on Z Highway.
Reed reportedly drove his patrol car to the area with his emergency lights and sirens activated. When he spotted a vehicle matching the description of Gant's heading in the opposite direction, Reed pulled his vehicle into the opposite lane in an attempt to stop the vehicle. Gant allegedly drove into the ditch to avoid Reed, causing her vehicle to have a flat tire. However, Gant didn't stop after the tire went flat but reportedly continued to flee from officers at speeds of more than 100 miles per hour while driving on the tire's rim. She reportedly drove across Highway 5 onto Y Highway without stopping or slowing down. She continued down Y Highway, reportedly stopping in a private driveway and then exiting the vehicle and running on foot. A passenger also reportedly fled on foot.
After officers apprehended the pair, Missouri State Highway Patrol Trooper Amy Johnson received permission to search Gant's vehicle and reportedly found marijuana and drug paraphernalia.
After the suspects were transported, Reed drove to Fox's location. Fox told Reed that Gant had nearly hit her head-on on Z Highway, and both vehicles stopped. Fox, who had arrested Gant several times, said she knew Gant didn't have a driver's license, and she was going to wait with the woman until other officers arrived on scene.
Fox said Gant cursed at her and sped off while the officer "had ahold of her." Fox said she was dragged down the road and possibly run over. She had several scrapes and bruises on her arm and said she was very sore.
In a secondary statement filed by Trooper Adam Johnson, the officer said he had responded to a request to aid the Ozark County Sheriff's Department in a pursuit resulting from an off-duty deputy being struck by a motor vehicle on Z Highway. While en route, Johnson was notified that officers had apprehended the driver and a passenger on County Road 116 off Y Highway. At 3:43 p.m., Johnson was asked to transport Gant to the sheriff's office due to suspected intoxication. While she was in the patrol vehicle, Gant reportedly said, "I knew who she was," referring to Fox. After reading Gant her Miranda rights, Johnson questioned her regarding the incident. Johnson wrote that he could smell intoxicants on Gant's breath when she spoke. He said Gant's eyes looked bloodshot and glassy, and she reportedly had difficulty comprehending basic questions and would sit in silence or ask the officer to repeat the question. When Johnson asked if Gant had had anything alcoholic to drink, she reportedly said she would like to speak to her attorney.
Earlier, when Gant had consented to Trooper Amy Johnson searching her purse, she allegedly told the officer, "There is under 35 grams of marijuana in my purse." A green leafy substance and rolling papers were retrieved from the purse and placed into evidence. An opened box of beer was reported located in the vehicle.
WebReadyTM Powered by WireReady® NSI