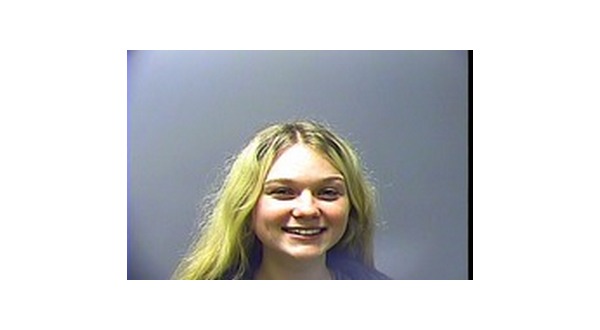 Problems surrounding the boyfriend of 18-year-old Alexis Bates of Lakeview have landed her back in the Baxter County Detention Center on a domestic battery charge, after being released from jail less than a few weeks before. She was booked into the Baxter County Detention Center December 21st and remains incarcerated on a $500 bond. She faces a charge of criminal attempt to commit aggravated robbery in connection with a separate incident in which she assaulted someone for bail money to get her boyfriend out of jail.
According to an incident report made available Wednesday, the latest case says a Baxter County Sheriff's Deputy was dispatched to a residence on Baxter County Road 25 for a reported physical domestic dispute.
Once on the scene a man, identified as Bate's ex-boyfriend, says he recently ended his relationship with Bates and she had come to the residence to get her things. He brought out a pair of pants and set them on the hood of Bate's vehicle at which time Bates came at him, chased him down a hill and struck his face breaking his sunglasses in the process.
Bates allegedly attacked him again. As he grabbed her by both arms to defend himself she bit him on the shoulder.
According to Bates, her ex-boyfriend struck her in the face. Witnesses at the scene say he never struck her and only attempted to defend himself by grabbing her arms.
In the November incident Bates allegedly had been texting a man continuously attempting to collect funds from him to cover her boyfriend's bond. After the man stopped responding, Bates and two others arrived at the residence.
Bates was carrying a metal baseball bat and was demanding money. After finding the door of the residence locked, she smashed a window with the bat. Bates also struck the man with the bat. The victim grabbed the bat and attempted to defend himself when the two accomplices of Bates jumped in. Shortly after the incident started, a neighbor's porch light came on, and the three suspects fled the scene.
Bates was booked into the Baxter County Detention Center on a $5,000 bond for the charge. She pled not guilty during a session of Baxter County Circuit Court and was ordered to reappear January 18th.
WebReadyTM Powered by WireReady® NSI