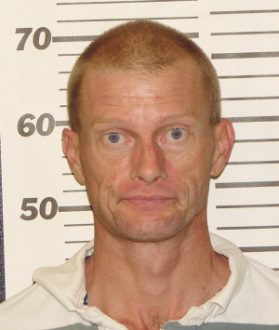 An Ozark County man, 37-year-old John Wesley McCullough of Gainesville, has been charged with eight counts of forgery following an incident in which he allegedly cleaned out a shed and then the elderly owner's checkbook.
The Ozark County Times reports charges against McCullough were filed earlier last month and a $1,000 cash-only bond issued.
According to a probable cause statement filed in the case, an 82-year-old woman from Gainesville notified the Ozark County Sheriff's Office on October 20th some of her checks had been stolen, forged and cashed. During the course of the investigation, deputies confirmed a total of eight checks had been forged and successfully cashed at Gainesville Town & Country Supermarket. Two of the eight checks had a driver's license number written on the back linked to McCullough.
An Ozark County Sheriff's deputy confirmed with Town & Country Supermarket McCullough was the man who brought in and cashed four checks on October 20th.
McCullough was arrestedand after being read his Miranda rights, he reportedly admitted to stealing the checks from the storage unit about a month before when he was hired to clean it out. According to the statement, McCullough said he alone wrote out the eight checks, forged the woman's name and cashed them at Town & Country. The total value of the checks was $415.
WebReadyTM Powered by WireReady® NSI