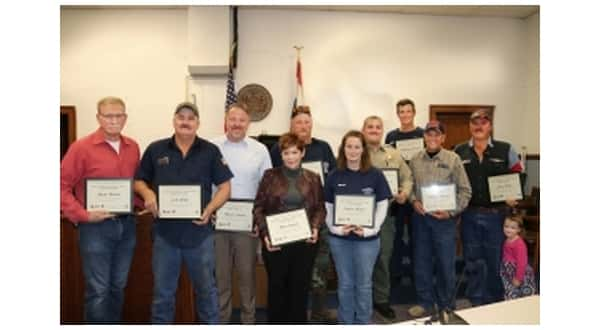 Several Ozark County emergency services volunteers, along with an Ozark County Sheriff's deputy, have been honored with the 2017 Missouri Volunteer of the Year Team Award. The presentations were made at the 2017 Show Me Partnerships Emergency Human Services Conference and Volunteer Symposium in Osage Beach.
Brett Meints, Ozark County's Emergency Management Director, accepted the award from State Emergency Management Agency Director Ernie Rhoades on behalf of emergency responders who assisted residents during the historic late-April flooding that washed away homes and bridges and left the county reeling.
The Ozark County Times reports on December 22nd Meints presented individual Volunteer of the Year Team Award certificates to nine designated emergency responders during a brief ceremony in the Ozark County Courthouse. As a member of the team, Meints had also received an individual certificate from Rhoades at the state meeting. He said it is his understanding this is one of the few times the state has recognized a team for the Volunteer of the Year Award. Usually the award goes to an individual.
The award came after Meints' wife, Jamie, wrote to the state Volunteer of the Year selection committee describing the heroic work of the Ozark County rescuers during the April floods.
... multiple members from both the Tecumseh and Bakersfield fire departments stepped up to get immediate rescues done, even as their own homes were filling with water."
She described how, after the collapse of the James Bridge on PP Highway cut the Tecumseh VFD's district in two, Tecumseh chief Nathanael Winrod and assistant chief J. B. Duke directed operations and managed several swift-water rescues in the two separated areas.
She also described how rescuers in "small fishing boats" rescued people from the banks of the river, from their homes and even from trees and fences. They were also able to save many family pets.
Chris and I tried to wrap our heads around what happened to our home." The Taylors' recently remodeled home was so badly damaged by the floodwaters they have had to abandon it and buy another home across the river.
While Shawn and Matthew Taylor and their fellow fishing boat rescuer Dan Israel were struggling to rescue flood victims from the rising water, Dan and his wife, Caroline, also welcomed into their home several flood victims whose homes on James Lane, in the Dawt area, were swept away.
In her letter nominating the Ozark County rescuers, Jaimee Meints also told how Chief Deputy Winston Collins "jumped into the raging flood waters and saved a man's life."
During the search-and-rescue phase, she wrote, "Volunteer fire departments from across Ozark County stepped up to help check house by house or man the emergency call center. Bakersfield VFD chief Greg Watts and firefighters Zaylor Watts and Lloyd "Punk" Stone assisted Tecumseh VFD every day with manning the command center, search and rescue, delivering meals to residents that could not get out of their homes."
Dora Volunteer Fire Department chief Monte Shipley was also singled out for pulling together a group of volunteer firefighters to help during the emergency. Meints wrote in her letter, "Most of these guys have businesses that were flooded, ranches that lost fence lines, fields washed out or cattle scattered everywhere, but they stepped up and took care of their community first."
She also described her husband's work during the devastating flood. Brett Meints "was up for 40 hours straight" organizing rescues and ordering supplies and other resources. She also told how, because of bridge outages, the drive from their Thornfield home to the command center at Tecumseh VFD took Brett two and a half hours, each way, and he made the trip every day during the days following the flood "so he could help on the front lines," helping with the house-to-house searches in addition to his emergency management duties.
Brett Meints said Shawn Taylor "did an amazing job with helping us and others ... deal with the event and was always only a phone call away."
Meints said one thing that impressed the state (SEMA) and federal (FEMA) officials who responded to the emergency here was the teamwork they found in Ozark County.
Meints had only held the voluntary emergency management director's title about a year when the flood struck, but he isn't new to emergency services. He spent 25 years as a career firefighter/paramedic in Waukesha, Wisconsin, before he and Jaime moved to Ozark County about two and a half years ago.
Photo:
Ozark County emergency responders who received 2017 State of Missouri Volunteer of the Year Team Award certificates during a presentation December 22nd at the courthouse were, from left, Ozark County emergency management director Brett Meints, Tecumseh Volunteer Fire Department assistant chief J. B. Duke, Tecumseh VFD board member Shawn Taylor, SEMA Region G coordinator J.J. Travis (front) holding certificate awarded to Tecumseh VFD firefighter Dan Israel who couldn't attend, Bakersfield VFD firefighters Lloyd "Punk" Stone (back) and Zaylor Watts, Ozark County Chief Deputy Winston Collins, Tecumseh VFD chief Nathanael Winrod (back), Dora VFD chief Monte Shipley and Bakersfield VFD chief Greg Watts and his daughter Tera.
WebReadyTM Powered by WireReady® NSI