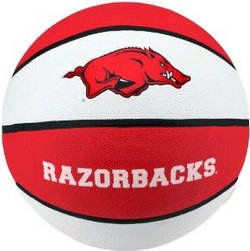 ATHENS, Ga. – Three players in double figures couldn't overcome a slow start on the road as the University of Arkansas women's basketball team dropped a 78-65 Southeastern Conference decision at Georgia in Athens on Thursday.
Arkansas (10-7, 1-3 SEC) got 16 points from Malica Monk, 15 points from Jailyn Mason and a season-best 11 points from Bailey Zimmerman but Georgia (15-2, 3-1 SEC) opened a 15-7 lead after the first 10 minutes and never trailed. The Razorbacks were forced to foul late in the game and the Lady Bulldogs hit the bonus shots to pull away in the final minutes.
The Lady Bulldogs stretched the lead to as many as 18 in the first half and it looked like Arkansas would not be able to answer but the Razorbacks found a spark in the second quarter to make the game interesting.
Arkansas posted a big rally in the second stanza outscoring the Lady Bulldogs 18-16 and closing within six points, 31-25, at the break. The Razorbacks put together a 15-3 run over a five-minute stretch that included a 7-0 run as the quarter ended.
Georgia went 0-for-7 and had five turnovers late in the frame as the Razorbacks controlled the momentum heading into the locker room.
The pace of the game intensified in the third quarter and Arkansas took advantage of a 7-0 run to close within three points, 43-40, just before the media timeout. Arkansas won the period, 24-23, but trailed the Lady Bulldogs, 54-49, with 10 minutes to play.
Georgia hit a back of baskets to start the final quarter. The momentum shift got the crowd back into the game. The Razorbacks pulled within one point twice in the fourth quarter but were unable to take the lead on the road.
Notes
• Jailyn Mason was the first Razorback in double figures. It is her 10th double-figure game of the year and her fourth in a row.
• Malica Monk was in double figures for the 16th time this season. It was the 10th time this year that Monk has led the team in scoring.
• Bailey Zimmerman had a season-best 11 points. She was 1-for-29 from distance but went 3-for-5 from 3-point range in the game.
• Arkansas had 10 steals. It is the sixth time this season the Razorbacks have posted double digit steals.
Up Next
Arkansas faces Auburn on Sunday at 4 p.m. in a game that will air on the SEC Network. It is the first of six consecutive SEC Network games for the Razorbacks. A home contest with Florida on Jan. 18, is sandwiched between another road swing that takes Arkansas to No. 12 Missouri on Jan. 21, and to No. 9 South Carolina on Jan. 25.
WebReadyTM Powered by WireReady® NSI