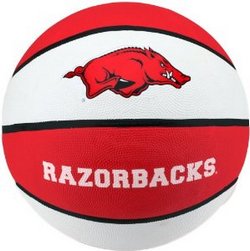 AUBURN, Ala. – University of Arkansas junior Bailey Zimmerman had a break out game helping the Razorback women's basketball team to a Southeastern Conference road win at Auburn on Sunday.
Zimmerman dropped in a season-best 13 points behind three 3-pointers as Arkansas (11-7, 2-3 SEC) knocked off the Tigers (10-7, 1-4 SEC) on their home court. In addition to her scoring, Zimmerman's defense, including a career-best eight rebounds fueled a 24-point halftime lead that resulted in the win.
Kiara Williams picked up her third double-double with a career-best 15 points and 14 rebounds. Jailyn Mason and Malica Monk also finished in double figures with 15 and 14 points, respectively.
Auburn scored first but Arkansas went on a 6-0 run that prompted a Tiger timeout just 1:30 into the game. Arkansas finished the quarter up five points, 16-11.
The Razorbacks poured in 24 points in the second frame in a 10-minute stretch that was nearly perfect. A 13-0 run gave Arkansas 15-point lead at the media timeout and the Razorbacks outscored Auburn 25-6 in the frame to lead 41-17 at the half. It is the second-largest halftime lead for the Razorbacks this season.
The Tigers rallied in the second half outscoring Arkansas in the final two periods, but the first half deficit was too big to overcome as the Razorbacks picked up the conference road win.
Notes
• Bailey Zimmerman, Malica Monk and Jailyn Mason were all in double figures in the first half. Zimmerman tied her season-best with 11 points in the first 20 minutes.
• Arkansas had a 41-17 lead at the half. It is the first lead at the break since the Ole Miss game on Dec. 31.
• Forty-one first half points is the second-best point total in the first 20 minutes this season. Arkansas scored 42 points in the first half against Samford in the second game of the year. Arkansas scored 40 points against ORU and Grambling this year.
• Arkansas hit a season-best nine 3-pointers in the first half.
• Arkansas out-rebounded Auburn 23-11 in the first half. It is only the sixth time this year Arkansas had more rebounds than its opponent in the first 20 minutes.
• Kiara Williams had her third career double-double with a career-best 15 points and 14 rebounds. It is her sixth double-digit rebounding game of the year.
Up Next
Arkansas returns home hosting Florida on Thursday, followed by back-to-back road games at No. 12 Missouri on Jan. 21 and at No. 9 South Carolina on Jan. 25.
WebReadyTM Powered by WireReady® NSI