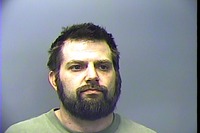 Joshua Dower of Mountain Home changed his plea to guilty on drug-related charges and was sentenced to six years probation during a session of Baxter County Circuit Court Thursday.The 36-year-old Dower had been set to go to trial but instead entered a plea to amended charges of possessing methamphetamine and drug paraphernalia.
Dower's attorney, Norman Wilber, had filed a motion to suppress evidence in Dower's case arguing the search warrant, resulting in Dower's arrest, was defective and a violation of Dower's constitutional rights for a number of reasons.
A hearing was held on the motion in September, and Circuit Judge Gordon Webb denied the motion in a ruling filed in mid-October.
On March 21st last year, officers searched a building in rural Mountain Home housing American Auto and Diesel -- a business said to be owned by Dower. The officers reported finding drugs and drug paraphernalia, along with ATV's and motorcycles. One of the ATV's had been reported stolen from Fulton County.
Both Dower and Cotter were in the building when officers served the search warrant. Officers searched Cotter and the room in which he was sleeping and found $7,400 in cash, methamphetamine and digital scales.
According to the probable cause affidavit, the warrant was obtained after a lengthy investigation during which a number of controlled drug buys were set up by investigators and made from Dean Thompson who is reported to work at American Auto and Diesel.
None of the four buys were made directly by Dower and only one was made from the building housing American Auto and Diesel. Judge Webb wrote in his ruling denying the motion to suppress drug sales had been connected to the shop building and Dower was found in the building during the March 21st search "connecting him, if only circumstantially, to the drugs."
According to court records the evidence showed that Dower, Cotter and Thompson were all involved to some degree in illegal activity.
WebReadyTM Powered by WireReady® NSI