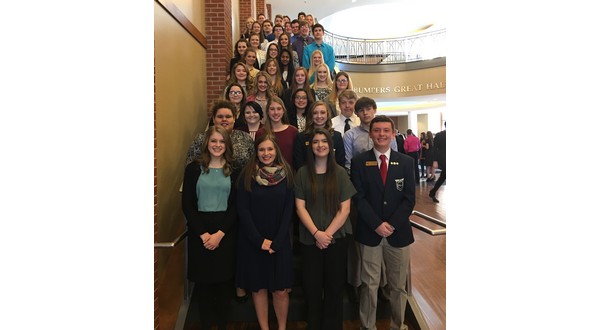 FBLA members of Mountain Home High School Career Academies competed Friday in the District VI Spring Conference, and the local chapter came away with several honors including eight first place finishes. Mountain Home took part in 30 events and advanced to the state competition in 21 events.
Two Mountain Home students were among those named Who's Who.  Courtney Green was the overall winner, and Jackson Steiner was among five District VI students recognized with highest honors.
The individual winners for Mountain Home include Noah Cutchall in Accounting II, Jackson Steiner in Emerging Business Issues and Chloe Nosari in Impromptu Speaking. The first place team awards went to Billy Beck and Giorgio Zanichelli in e-Business; Natalie Dennis, Hannah Goodwin and Madeline Fortenberry in Graphic Design; Ava Strack, Rachel Walden, Payton Barton, Shelby Williams and Daisy Woodbury in Parliamentary Procedures; and Brody Jennings and Cameron Boyett in Publication Design.
Mountain Home picked up two second place honors. Allie Parsons was the runner-up in Hospitality Management, and the team of Kiara Campbell and Allie Parsons was second in Business Ethics.
The third place awards went to Jesse Dunn in Accounting I, Gannon Connelly in Computer Applications, Courtney Green in Electronic Career Portfolio, Anna Rogero in Intro to Business Presentations and Maddy Goeke in Website Design. Fourth place finishers include Brandon Belcher in Journalism and the team of Lauren Malte and Gaby Edavettal in Marketing.
Fifth place honors were won by Gabe Henderson in Agribusiness, Amanda Brown in Business Law and Amanda Staley in Intro to Information Technology. Sixth place awards went to Abbie Bobbit in Health Care Administration and Sidney Foster in Insurance and Risk Management.
The local chapter also came away with another honors. Mountain Home was second in the Largest Chapter Membership category.
The FBLA State Leadership Conference is scheduled for April 9th and 10th in Little Rock.
WebReadyTM Powered by WireReady® NSI