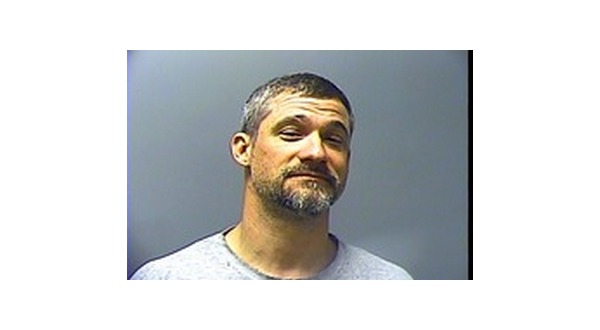 A Mountain Home man, 39-year-old Thomas James Archey, has been arrested following a violent domestic battery incident in Bull Shoals Saturday when he is alleged to have assaulted a woman six months pregnant.
According to the probable cause affidavit, law enforcement responded to a residence along Locust Street where Archey had fled the scene of the altercation. A witness told law enforcement the female was inside and had been beaten by Archey.
The witness told Bull Shoals Police Chief James Kuchenbecker Archey had arrived appearing impaired from either drugs and/or alcohol and wanted to speak with his pregnant girlfriend. She had refused to leave with him, but had followed him outside. Shortly afterward, the witness heard the woman screaming for help. He said he went outside and observed Archey striking, kicking, and pushing the victim to the ground, while screaming he was going to kill her.
The witness intervened in the altercation, leading to a fight between the two men. The witness advised Archey struck him several times in the face with his fist. Archey then reportedly picked up a case of beer and fled the scene on foot. The Bull Shoals Volunteer Fire Department and paramedics arrived on the scene, with the victim transported to Baxter Regional Medical Center for treatment. The witness refused medical attention.
In an interview Sunday with the victim, she advised when outside the residence with Archey his demeanor changed dramatically. When she attempted to return inside, Archey turned and "head butted" her in the face. He then struck her in the nose with his fist, while threatening to kill her. She said she was almost onto the front porch when Archey grabbed her and threw her off the raised driveway, a heighth of two to three feet, causing scrapes and bruises to her left knee.
Officers from Flippin, Lakeview and the Marion County Sheriff's Office assisted in a search for Archey with negative results. A BOLO was issued for him in Baxter, Marion and Boone counties.
Online records at the Baxter County Detention Center indicate Archey was booked into the county jail Tuesday afternoon and released less than an hour later. His bond had been set at $50,000 on felony charges of first degree domestic battery involving a pregnant woman and terroristic threatening, along with a misdemeanor count of third degree battery.
He is set to appear in circuit court later this month.
WebReadyTM Powered by WireReady® NSI