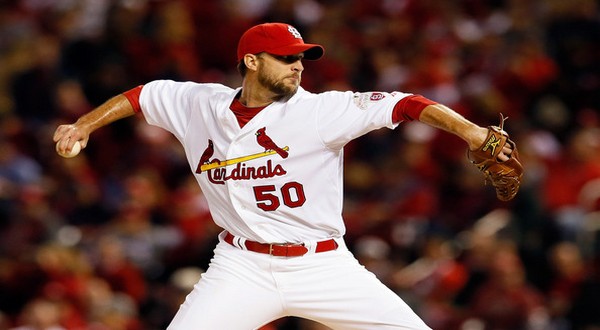 JUPITER, Fla. (AP) St. Louis pitcher Adam Wainwright says he isn't thinking about retirement. He also isn't pondering a contract extension.
Those thoughts, he insists, will come at another time.
A playful Wainwright called the media together outside the Cardinals clubhouse Thursday morning to talk about what he didn't want to talk about: his future after this season and his potential retirement.
"Let me just say this," Wainwright said. "It would be great for me if everyone would – I don't know if `respect' is the right word – if everyone would embrace the idea that I love being a St. Louis Cardinal, love my time here and I really want to get the most out of what I'm doing here right now, and I would love to not answer that question for the rest of my life and for the rest of this year every time I do an interview."
Wainwright, 36, is entering the final year of a five-year contract. The three-time All-Star and one-time ace of the Cardinals – the only major league team he's ever pitched for – owns 146 wins in his 12-year career, but he hasn't won more than 13 games since winning 20 in 2014.
He acknowledged letting thoughts about his future creep into his head last season. Despite fighting both mental and physical battles, Wainwright still tied for the Cardinals' lead with 12 victories last season.
"Last year I stated off feeling really great," Wainwright said. "I was pitching not great and I thought, Man I don't want to be not great at this game and I started looking at retirement. Right when I did that I started pitching really well. And right when I started pitching really well I said, You know what? I want to do this for two, three four more years. I want to sign the extension. And right when I did that I got hurt."
A couple times during his impromptu press conference Wainwright returned to the idea of not wanting to be perceived as, or to perform like, a mediocre pitcher. Not long afterward Wainwright took the mound for his first official bullpen session of the spring.
Manager Mike Matheny endorsed Wainwright's live-in-the-now approach.
"You're talking about a great pitcher for a long time," Matheny said. "He's had a great career. That's who he is. He's always pushing the envelope for greatness and that's exactly what he should be expecting of himself."
It is clear Wainwright still believes he belongs on the mound. At one point on Thursday morning, he did chart a personal course for the season.
"I'm hoping to pitch really, really great this year so that the question is not whether he needs to retire or not," Wainwright said. "It will be, How many years can we get him back? That would be my goal. But I don't want to think about that right now. What I want to think about is what I have to do today to get better."
In an effort to ensure that success, Wainwright arrived at camp nearly 25 pounds lighter than he did one year ago. He hadn't come to camp weighing as little as his current 225 pounds in at least five seasons.
"Earlier in my year it was, the heavier I felt, the bigger and stronger I felt, the better I pitched because I felt better," Wainwright explained. "Last year I came in really heavy and strong as a bull but I was very stiff and so, functionally, it didn't work."
Fighting the added weight, Wainwright's hips flew open too early in his delivery, leading to back soreness and eventually the elbow issue that interrupted his season.
This spring he figured he'd try the opposite approach, and even joked that he might attempt to steal a few bases this season.
"I'm like a lab rat right now though," Wainwright said. "If it doesn't start working, then trust me, I'll be eating a foot long sub from somewhere and some mac and cheese. We'll see."
WebReadyTM Powered by WireReady® NSI