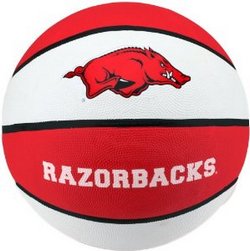 FAYETTEVILLE, Ark. – Sophomore Kiara Williams put the University of Arkansas women's basketball team on her shoulders with a career-best 19 points, but the Razorbacks came up short against LSU, 62-57, on Senior Day on Sunday.
Williams went 6-for-8 from the field and 7-for-8 from the line. She added nine rebounds and two steals in 30 minutes. Junior Malica Monk was also in double figures, scoring 17 points for Arkansas (12-15, 3-11 SEC).
LSU (18-7, 10-4 SEC) held an 11-point lead at the end of 30 minutes. The Tigers won the third quarter, 20-15, but Arkansas buckled down in the final stanza with a couple of scoring bursts to cut the lead.
The Razorbacks kept the game close, as they outscored the Tigers 16-5 to pull within two points, 57-55, with 1:14 to go. LSU took a time out and scored out of the break. Arkansas missed on its end of the floor and was forced to foul as time ran out.
The Tigers took advantage of 17 Razorback turnovers and they grabbed 15 steals. Seventeen turnovers ties for the fourth most in a game this season by Arkansas. LSU scored 15 points off the Razorbacks' miscues.
Devin Cosper, the team's only senior, finished her day with five points and six rebounds. She added three assists, two blocks and four steals in 31 minutes. Cosper graduated last year with her undergraduate degree in journalism and is currently working on her master's degree in journalism.
Notes
• Arkansas set a program record for made 3-point field goals with their third shot from distance. The Razorbacks made four from beyond the arc in the game and have 204 for the year.
• Kiara Williams had a game-high 13 points at the half and finished with a career-best 19 points in the game.
• Malica Monk finished with 17 points, scoring in double figures for the 25th time in 27 games this year.
Up Next
Arkansas hosts Texas A&M on Thursday and travels to Vanderbilt on Sunday as the regular season comes to a close.
WebReadyTM Powered by WireReady® NSI