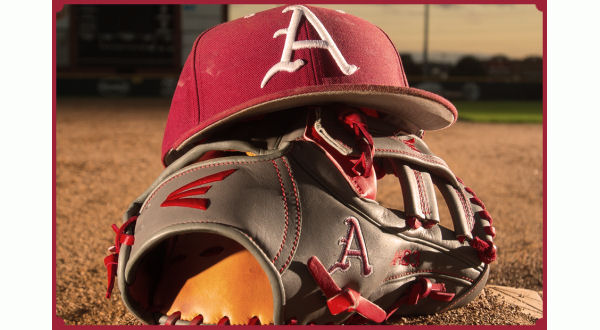 SAN DIEGO, Calif. – The No. 3 Razorback baseball team couldn't escape a couple of costly errors Friday afternoon as Cal Poly handed Arkansas its first loss of the 2018 season, 4-3, on the first day of the Tony Gwynn Legacy Tournament.
With the Mustangs (2-3) leading 3-1 in the seventh inning, sophomore Dominic Fletcher provided a big two-run home run to tie the game up and, seemingly, give the Hogs (4-1) the momentum it needed for the final innings.
Unfortunately, Cal Poly manufactured the winning run in the top of the ninth as pinch hitter Blake Wagenseller hit a lead-off single and eventually scored after a sacrifice bunt and a two-out single off junior right-hander Jake Reindl.
The Hogs did get another strong start from junior Blaine Knight, who went six innings, allowing just one earned run on five hits and totaling a season-high seven strikeouts on 88 pitches. Combined in his two starts this year, Knight has allowed just five hits, walked two while striking out 11 and letting just one run score. It's easily his best start to a season in his career as his 0.82 ERA after two starts is expected to be among the SEC's best at the end of week two.
Offensively, Arkansas struggled on Friday against Cal Poly starter Michael Clark, but was finally able to get to him in the sixth inning, putting two runners on via catcher's interference and a single. Four of the Razorbacks' eight hits in the game came against Clark, but they were only able to scratch across one run.
Senior Luke Bonfield delivered the lone extra-base hit off Clark in the fourth inning. He finished the game 2-for-3, his first multi-hit game of the season and extended his hitting streak to five games. Fellow senior Carson Shaddy was the only other Razorback to record more than one hit as he went 2-for-4 with a run scored.
The Razorbacks will play its second game of the Tony Gwynn Legacy on Saturday against one of the hosts in San Diego State. First pitch is slated for 8 p.m. CT and will be televised on Cox Sports.
WebReadyTM Powered by WireReady® NSI