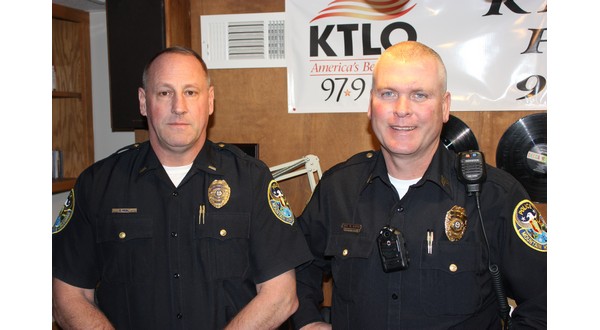 Even though the Twin Lakes Area is statistically one of the safest places to live in Arkansas, crime, sometimes violent, still takes place. Police officers who don their uniform and badge put themselves at risk everyday they show up to work, not knowing what danger may lurk around the corner.Veterans of the police force have likely seen it all, shootings, domestic violence situations, rape, drugs, etc. They also sometimes face public scrutiny for holding others accountable for breaking the law. Under such stressful situations, however, they still show up to work. Most local veteran police officers say the most rewarding part of the job, and the reason they have been at it year by year, is being able to help people.
That's the case with all local officers interviewed as part of KTLO, Classic Hits 101.7 and The Boot's Salute to Service series. Tuesday, veterans of local police departments across the Twin Lakes Area are honored for their service to the public and their intestinal fortitude.
In part one of our series, we speak with Lieutenant Eric Neal and Sergeant Kevin Litty of the Mountain Home Police Department. They have lived in the area since they were little children and joined the police department at the same time in November 1993. They both have a farming background in common.
Neal says he wanted to be a police officer because he's always liked the community. He also had friends that were police officers. He says he enjoyed the excitement of not knowing what was going to happen next.
Neal says the biggest change he's seen over the years is technology.

Listen:


The first year was an eye-opener for Neal.

Listen:


Litty says his motivation to join the department was a job, with benefits, so he could better support his family.

Listen:


Like Neal, Litty says the biggest change he's seen over the years is the change in technology.

Listen:


Both Neal and Litty admit there have been times, during their 25 years of law enforcement, when they felt their life was in danger.
Neal says he is thankful to have received some of the best training in the country, including training on handling domestic violence and child abuse situations. He says the training has helped him throughout his career and gives the Mountain Home Police Department an advantage over some departments. He goes on to say good leadership, under past and present mayors and police chiefs, have contributed to his success.
Neal and Litty say they will continue to farm and raise cattle in their spare time and into retirement.
Salute to Service, sponsored by Gilbert Realty, Bouquet Palace, Orscheln Farm and Home, ASC Warranty, Mountain Home Concrete, The Uniform Shoppe, Danny Porter Century 21 LeMac Realty, Brooks Medical Supply, Riverlodge Assisted Living, Mountain Home Laundry, Gift-Tiques-Always Unique and KTLO, Classic Hits and The Boot are proud to honor the veterans and all members of local law enforcement across the Twin Lakes Area for their service, dedication and contributions to our community.
In part two of our series KTLO, Classic Hits 101.7 and The Boot news will recognize Lieutenant Terry Johnson of the Baxter County Sheriff's Department and Sergeant Silas Gibson of the Marion County Sheriff's Department.
Pictured: Lieutenant Eric Neal and Sergeant Kevin Litty of the Mountain Home Police Department
WebReadyTM Powered by WireReady® NSI