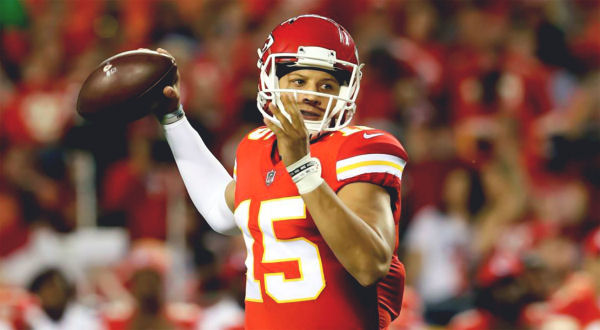 Patrick Mahomes II wants to get out of the huddle without any issues, call the right protections and limit his mistakes, all while leading the Chiefs to a couple of touchdowns when he plays the first quarter of their preseason opener against Houston on Thursday night.
If something doesn''t work according to plan? He''ll be in coach Andy Reid's ear to stay out there.
""I mean, yes, kind of,"" Mahomes said with a grin. ""I know he's going to keep it where he can try to let everyone play and get everyone. But if I don''t score I might say something to him.""
There are a few things to unpack from that statement.
First, the Chiefs' new starting quarterback has high expectations for himself, perhaps even higher than those of a fan base that is already fawning over him. Second, he is secure enough to lobby a coach who's been at this for two decades to reconsider his plan. And third, he understands his job is to put up points, especially considering the myriad question marks surrounding the defense.
Oh, and fourth: There is a competitive streak in Mahomes that is nearly unrivaled.
""We are going to try to win. That is the first thing coach Reid said when we were game planning for this week is he doesn''t like losing,"" Mahomes said." "We''re going to do whatever it takes. I am going to try to encourage those guys and help those guys on the sideline. We have a lot of competitors, so hopefully we can win the football game.""
The result doesn''t matter much, of course. It will likely be decided long after the starters exit following the first quarter, and probably after the backups hang up their helmets at halftime.
Still, the Chiefs hope to begin building some momentum for the regular season right away.
""You''re looking for assignment football. You're looking, when the juices get going, how you handle that,"" Reid said. ""You''re in the stadium with the fans there. We''ve had a great turnout here (at camp), but it''s a little different with the lights on and it''s game time."
"It's one more evaluation period that you have a chance to see these guys in."
This will be Eric Bieniemy''s debut as offensive coordinator after the longtime running backs coach was promoted to replace current Bears coach Matt Nagy. He has worked closely with Mahomes throughout camp and will be wearing the headset to communicate with him on game day.
WebReadyTM Powered by WireReady® NSI