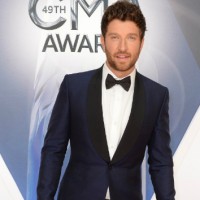 ABC/Image Group LABrett Eldredge was totally upstaged by his companion at his latest number one party Tuesday in Nashville. The culprit? His new Weimaraner puppy Edgar, who came home with him last month. It just happens that the song Brett was celebrating, "Drunk on Your Love," owes a bit of its inspiration to another pooch.
"Ross Copperman and I were writing a song, and he had this little tiny dog. What was that dog's name?" he asked the reigning ACM Songwriter of the Year.
"Bella… a Chihuahua," Ross replied.
"I was so antsy that I would pick up the dog and put it on my head because it was so small and I'm a giant person. That was how it started," Brett laughed. "Really, that really did happen!"
The rest of the songwriting process for Brett's fifth number one followed a similarly unpredictable path.
"We just got kind of in this groove of this song and sometimes you chase down things when you don't know where it's going," he recalled. "In fact, the demo to this song was so wacky. Like, we totally just goofed around… So I'm making all these crazy noises and he's playing these guitar parts, and the next thing you know, it's our third number one together!"
Ross also co-wrote Brett's chart-topping hits "Beat of the Music" and "Lose My Mind," as well as his current single, "Wanna Be That Song."
Copyright © 2016, ABC Radio. All rights reserved.