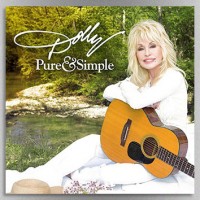 Dolly Records/RCA NashvilleWhen Dolly Parton's new album, Pure & Simple, comes out next Friday, look for the entertainment icon to do a little name-dropping, specifically referencing one British superstar with whom she's particularly taken — Adele.
"I love her, love her, love her!" Dolly tells Digital Spy. "Did you notice I used her name in one of the songs on the album? On 'Head over High Heels,' when I say 'I put on my tight dress, hair piled on my head, painting my lips red and my eyes like Adele!"
Dolly confesses she hopes the two get the chance to work together.
"I love her! I would love to do something with her… I love how she looks, I love how she sings, I love how she is," says Dolly. "I would love to do something with her. Maybe write a song? Maybe do a duet. So pass that word along!"
As Dolly counts down to the release of her new record April 19, she's just released the first in a series of videos in which she discusses each song. You can check out the one focusing on the title track online now.
Copyright © 2016, ABC Radio. All rights reserved.