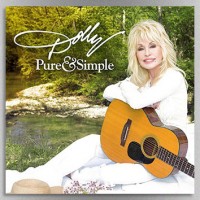 Dolly Records/RCA NashvilleWhile the internet is buzzing with talk of a potential collaboration between Dolly Parton and Adele, the East Tennessee glamazon admits it was actually the British superstar's look that first caught her attention.
"I do makeup all the time," Dolly says. "So my nieces and my sisters are always saying, 'Can you fix my eyes like Adele? Can you do that, where the, you know, the eyeliner goes up… '"
Adele's eyes were so fixed in Dolly's mind, she ended up working them into a lyric on her new album, in the song "Head over High Heels."
"I hadn't intended to write that line…" the Country Music Hall of Famer remembers. "I was thinking, 'What do you do if you've got high heels? You're gonna dress up. You're gonna go out, pile your hair on your head, paint your lips red. You're gonna have to do your eyes.' So I thought — 'And my eyes like Adele! — And it rhymes!' And I got so excited. And I thought, 'She's gonna love me!'" Dolly laughs. "'She's gonna love me for saying her name in a song!'"
The entertainment icon goes on to reveal that she and Adele have already laid the groundwork for a musical meeting of the minds.
"We, at one time, had talked about… that we were gonna get together because she was coming to Nashville and we were gonna… maybe write something, but our schedules didn't work out. But I'm open, if she is! She's hot right now. I could ride far on her skirt tails!" Dolly laughs.
Dolly's 43rd album, complete with the song that mentions Adele, comes out on Friday. Pure & Simple will be available digitally and as a single disc, with special versions on sale at both Walmart and Cracker Barrel.
Copyright © 2016, ABC Radio. All rights reserved.