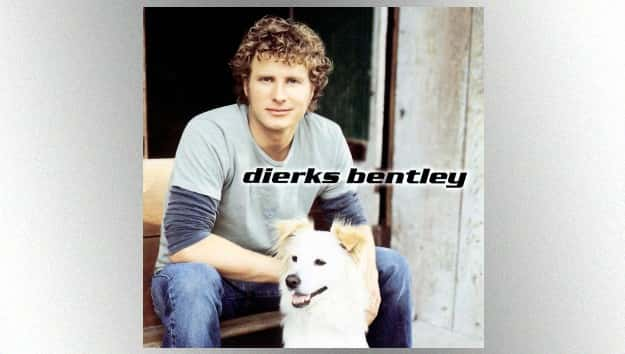 Capitol NashvilleThere was perhaps no more famous — and certainly no more loved — dog in country music than Dierks Bentley's longtime companion, Jake. He was on the cover of Dierks' first album, appeared in quite a few videos, and was even present at the Country Music Hall of Fame when his dad's exhibit opened not too long ago. So it's been a big adjustment for the country superstar since Jake passed away back in July, at the age of 15. But it seems like Dierks may be starting to heal.
"Our other dog George has been so lonesome since Jake left us," the "Different for Girls" singer shared on social media Wednesday, along with a video of his wife Cassidy and daughters Evie and Jordan emerging from Nashville Humane Association with the newest member of the Bentley clan.
"I love this dog!" one of the girls says, before Dierks adds, "In and out in about 10 minutes and we got a dog! We don't have a name yet, but we got a dog!"
As you might imagine, suggestions have been pouring in from Dierks' fans, but so far, there's no word if the Bentleys have settled on a new moniker for their rescue.
Copyright © 2016, ABC Radio. All rights reserved.
our other dog george has been so lonesome since jake left us… thanks @nashvillehumane @HumaneSociety. need a name! pic.twitter.com/tFFPLy51vD

— Dierks Bentley (@DierksBentley) September 14, 2016