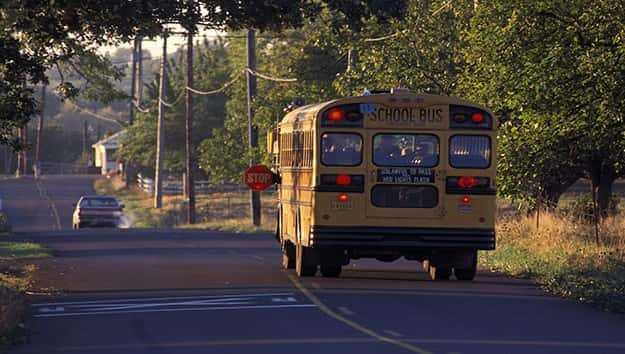 Ingram Publishing/iStock/Thinkstock(LOUISVILLE, Ky.) — Police in Louisville, Kentucky, say three children remain in the hospital after an SUV hit them as they prepared to board a school bus.
Officer Dwight Mitchell of the Louisville Metro Police Department said around 8 a.m. Thursday officers responded to a 911 call about a vehicle collision involving pedestrians.
In a statement, police said the Cadillac Escalade was traveling in the same direction as the school bus when the bus stopped suddenly.
According to police, the driver of the SUV swerved to avoid hitting the school bus and went up on the sidewalk, to the right of the bus, striking three children waiting to board.
Police said the driver did not see the three children. Two of the children were said to be ages 9 and 10. The third child's age was unknown.
The bus, bound for Dixie and Englehard Elementary Schools, was empty at the time except for the driver.
"I saw this little girl was up under the car," one resident told ABC affiliate WHAS-TV in Louisville. "So it was about seven or eight of us — I don't know how many it was — we was trying to raise the car up. So when we got it up high enough, the police pulled a kid from under the car. And boy, I was so thankful that we could get her out but she was in bad shape. She was bleeding real bad. So EMS, they started working on her."
WHAS-TV said two of the children were brother and sister. The third child was not related to the other two.
Mitchell said the children were taken to the hospital, with two in critical condition and the third with serious injuries. He said the driver of the SUV had also been taken to the hospital.
So far, according to police, the driver of the SUV is expected to be charged with having no insurance or registration. Mitchell said police were still investigating the accident.
"It's a very tragic situation that's happened," he said. "The driver did stay but was injured. … Our prayers are with these children that they recover. That's the main thing."
Copyright © 2016, ABC Radio. All rights reserved.