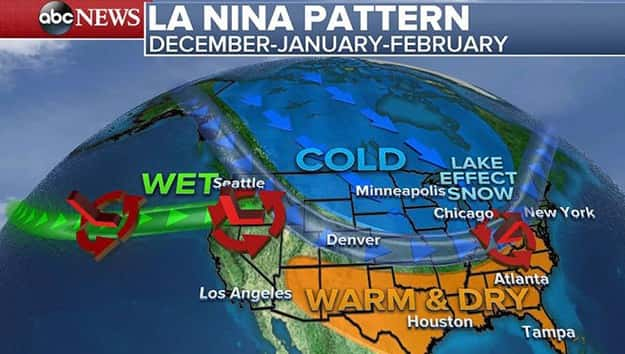 Max Golembo/ABC News(NEW YORK) — Thursday NOAA's Climate Prediction Center issued the U.S. Winter Outlook, saying that La Nina is expected to influence winter conditions this year.
The Climate Prediction Center said La Nina is likely to develop in late fall or early winter, but it is expected to be weak and short-lived.
With the possible weak La Nina, we are expecting more arctic outbreaks for the Northern Plains and the Great Lakes. With colder air moving over relatively warm Great Lakes, lake-effect snow could be heavier than normal especially early in the winter months, said Mike Halpert, deputy director, the Climate Prediction Center. Cities like Bismarck, Minneapolis and Green Bay could see colder than normal conditions, while Chicago, Cleveland and Detroit could see a snowier winter.
Also, snowier conditions are expected in the northern Rockies, so if you have a winter break trip planned to Sun Valley, Idaho, or Big Sky Resort, Montana, you might be in luck for some champagne powder.
A pacific jet stream aimed at Washington State and Oregon will likely deliver wetter and cooler weather for Seattle and Portland, increasing chances for flooding and mudslides.
As far as the Northeast goes, most of the area will see near-normal snowfall and temperatures for winter, save for northern New England, where conditions might be warmer than normal. Having said that, last winter was one of the warmest winters on record in the Northeast, so the near-normal temperatures forecast for this winter could feel much colder.
For the megalopolis of the Northeast, it looks like winter will be more rainy than snowy. During a typical La Nina winter, the jet stream curves north into eastern Canada keeping the coldest arctic air away from the immediate East Coast, leaving the coastal cities mostly with rain or a mix precipitation. Further inland, it could be a different story.
If you want a warmer and drier than normal winter this year, you better head south. From Los Angeles to Dallas to Atlanta, the Climate Prediction Center said to expect less severe winter storms and warmer than average temperatures. Of course, this is bad news for Southern California, which has been dealing with an exceptional drought the last five years.
Copyright © 2016, ABC Radio. All rights reserved.