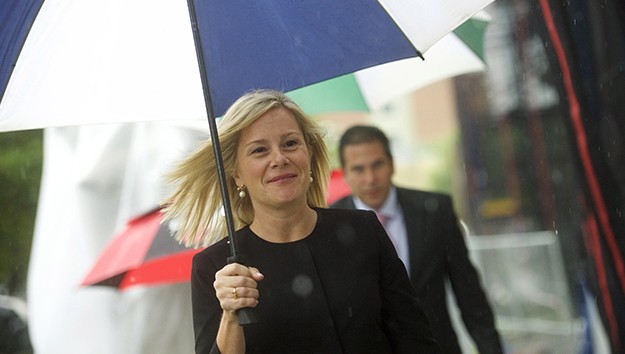 Mark Makela/Getty Images(NEWARK, N.J.) — "Time for some traffic problems in Fort Lee."
Bridget Kelly, who wrote that infamous email as the deputy chief of staff to Gov. Chris Christie (R-New Jersey), took the stand Friday to testify in the Bridgegate case. Federal prosecutors allege the event was a plan for revenge against a mayor who would not endorse the governor for re-election.
According to Kelly, she was not aware that the 2013 plan for the George Washington Bridge closures was allegedly politically-motivated, and the email to former Port Authority staffer David Wildstein wasn't sinister, but sarcastic. She said she told the governor about the plan a month before it happened.
"I said Governor, by the way, I spoke to Wildstein today," she recalled in court Friday. "Apparently the Port Authority is going to be doing a traffic study in Fort Lee. I explained the access lanes to him. He said 'OK when are they doing this?' I said, [Wildstein] did say there's going to be a tremendous traffic problems in Fort Lee."
Kelly added that she did not know at the time who Fort Lee Mayor Mark Sokolich was, and that the bridge closures were allegedly part of a revenge plan against the Democrat for not endorsing Gov. Christie for re-election.
When asked by her attorney, Michael Critchley, how the governor reacted, she said, "He really didn't react. He said, 'That's fine.' He said, 'How's our relationship with Mayor Sokolich?'"
Gov. Christie has not been charged in the Bridgegate case and has repeatedly denied he had any knowledge of the plan. He fired Kelly and campaign manager Bill Stepien in January 2014 after the scandal gained nationwide coverage.
Kelly also testified that she and Gov. Christie attended a meeting in Seaside Heights, New Jersey, after the September 2013 boardwalk fire. She said that when she asked the governor if he could introduce some people at the meeting, he became irate and threw a water bottle at her.
She cried several times while testifying and was asked by Critchley if she was afraid of the governor.
"Yes. Yes," she said in tears.
Copyright © 2016, ABC Radio. All rights reserved.