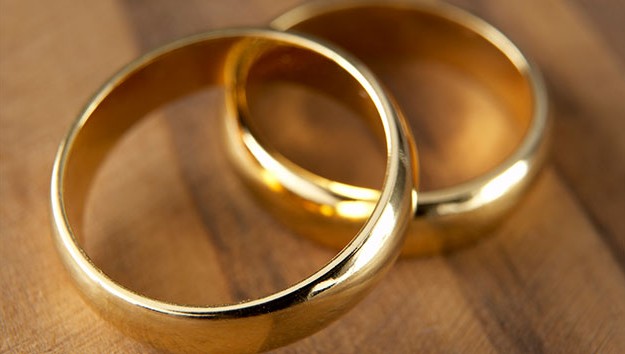 Monkey Business/Thinkstock(NEW YORK) — After losing his wedding band two months ago in a rushing river during an end-of-summer work outing, Matt Dooyema never thought he'd see his sentimental gold band again. All that changed on Monday, however, when he received a Facebook message that he admittedly almost deleted, but is so grateful he didn't.
"I packed all my important stuff up — keys, cell phone and wallet– but I didn't think to take my ring off," Dooyema, of St. Cloud, Minn., told ABC News of the fateful day at Two Rivers Campground in Royalton. "I never take it off. I shower with it, sleep with it.
"My hands got wet and the river that day had quite a fast current and I didn't brace myself and I fell and lost my tube," he explained. "I chased after my tube and somewhere in that base area where you get into the river my ring must have flung off and fell amongst rocks."
Dooyema realized the ring was missing about 10 minutes down the river when he and his colleagues reached the first sand bar.
"I looked down and I see my wedding ring is gone. I was crying," he recalled. "We thought about trying to look for it but the current was too heavy to go against. I had to come to grips with the fact that I'd never see my ring again."
When he received the Facebook message from a woman named Jennifer Ortloff regarding a ring, he wasn't sure what to think at first.
"I clicked on it and it's a woman named Jennifer Ortloff who said, 'My family and I were recently vacationing in Royalton, Minnesota,'" Dooyema said of the message. "'We just found a ring that we believe belongs to you. My little boy found the ring and he's been adamant about getting it back to you.'
"I didn't believe it," he said after realizing it could be the perfect match.
He provided the detailed inscription that was engraved in his wedding band which included his wedding date, his initials and his wife's initials. It had been those clues that helped Ortloff and her son, Matthew, narrow down the search results to find Dooyema on a Minnesota wedding registry site called the Minnesota Official Marriage System.
"We were going on a tube trip down the river and I thought I saw a shiny rock and I picked it up and it was a mens wedding band," young Matthew, 8, said of spotting the ring two weeks after Dooyema had lost it. "I said, 'I need to get that back to the owner.'"
Matthew's mom said her son was so concerned about the ring the whole way down the river that he'd check on it at every stop.
Now they can both rest easy knowing it's been returned to its rightful owner. Dooyema and Ortloff met on Tuesday to safely get the ring home.
"Shock is pretty much the prevalent emotion I feel," said Dooyema. "Disbelief. I had it set in my mind that I'd never see this again, almost as a way to not beat myself up any more about it. I was in shock, but also have a general feeling of gratitude and some reinforcement in my belief in people. It is very serendipitous, but it comes back to the fact that people are generally good. There are good people in this world who are willing to go above and beyond what's right."
As for how little Matthew feels about finally finding the owner?
"It's awesome," he said.
Copyright © 2016, ABC Radio. All rights reserved.