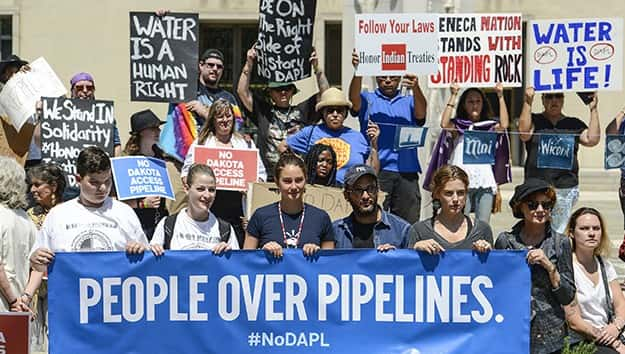 Leigh Vogel/FilmMagic via Getty Images(MANDAN, N.D.) — At least 83 people were arrested for protesting construction of the Dakota Access Pipeline, according to authorities in North Dakota.
The Morton County Sheriff's Department said 300 protesters trespassed on private property 3 miles west of State Highway 1806 along the pipeline right-of-way.
"Today's situation clearly illustrates what we have been saying for weeks, that this protest is not peaceful or lawful," Sheriff Kyle Kirchmeier said in a statement. "It was obvious to our officers who responded that the protesters engaged in escalated unlawful tactics and behavior during this event. This protest was intentionally coordinated and planned by agitators with the specific intent to engage in illegal activities."
Protesters have been demonstrating against construction of the 1,172-mile pipeline in support of the Standing Rock Sioux tribe, which has said the project would affect water supply and culturally sacred sites on the North and South Dakota border.
Last week, actress Shailene Woodley was arrested for alleged criminal trespass and allegedly engaging in a riot during a protest of the pipeline.
A warrant was issued for the arrest of Amy Goodman, host of Democracy Now!, last month, but a North Dakota judge found there was not probable cause to support a riot charge.
Copyright © 2016, ABC Radio. All rights reserved.