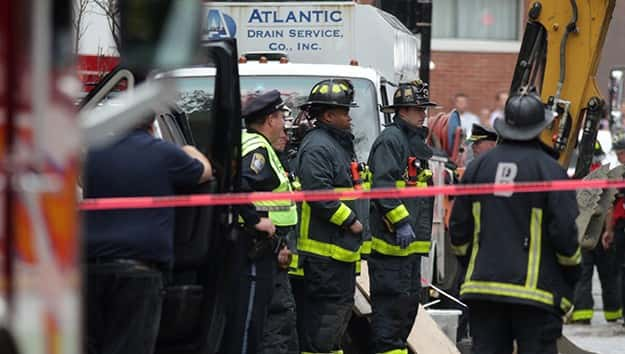 Photo by Jonathan Wiggs/The Boston Globe via Getty Images(BOSTON) — Two workers were killed on Friday when a water main break flooded the trench they were working in.
The Boston Fire Department used a large vacuum to help remove water the trench, which ABC affiliate WCVB says was estimated to be 12- to 15-feet deep. The BFD said that the Suffolk County District Attorney's Office and the Occupational Health Safety and Health Administration will investigate was caused the incident.
WCVB says the two victims were workers for Atlantic Drain Services.
The bodies of both victims were recovered on Friday night.
BFD Commissioner Joe Finn tweeted his thanks to the first responders and to Boston Water and Sewer workers, National Grid and Eversource crews and others who assisted in the recovery.
Boston Police Commissioner William Evans told The Boston Globe that when the pipe burst, the workers "weren't able to get themselves out of a hole." Other workers, he said, were able to escape the trench.
Copyright © 2016, ABC Radio. All rights reserved.