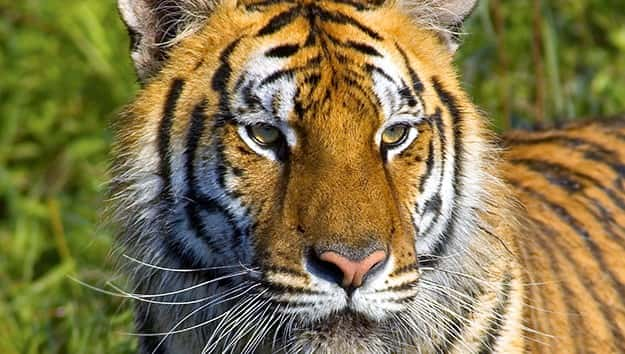 Design Pics/Thinkstock(PENSACOLA, Fla.) — An animal trainer in Florida was hospitalized after being scratched and dragged by a tiger while performing for a school field trip at a fair, officials said.
A video of the incident allegedly taken by a student on a field trip to the Pensacola Interstate Fair has surfaced on social media. The dramatic footage shows a female trainer with a tiger in an enclosed area, while children and adults a few feet away watch behind a fence. The tiger appears to scratch the trainer, causing her to fall to the ground. The woman is seen repeatedly hitting the tiger with a rod as the animal grabs her leg and drags her across the ground. A male trainer then enters the cage and hits the tiger with a rod until the animal releases the woman.
"My daughter recorded it on her tablet," Scott Caputo wrote in a post accompanying the video on Facebook, which has already been shared hundreds of times. "Holly thinks it was no big deal. I thought it was horrifying."
According to ABC affiliate WEAR-TV, fair officials said the trainer, identified as Vicenta Pages, suffered a 3-inch cut on her knee and a laceration on her ankle from the incident on Tuesday. She was taken to a local hospital where she underwent surgery due to concerns of an infection, WEAR reported.
"We're dealing with wild animals here and although we take every precaution, accidents like this sometimes happen," David Donnert, Pages' fiancé and co-owner of the tiger show, told WEAR. "We know the hazards of our job, but we love these beautiful animals and Vicenta will be back as soon as she's able."
Pensacola Interstate Fair officials told ABC News on Wednesday that Pages is now back home with her family and is in good condition.
A spokesperson for the Florida Fish and Wildlife Conservation Commission told ABC News investigators are looking into the incident.
Copyright © 2016, ABC Radio. All rights reserved.