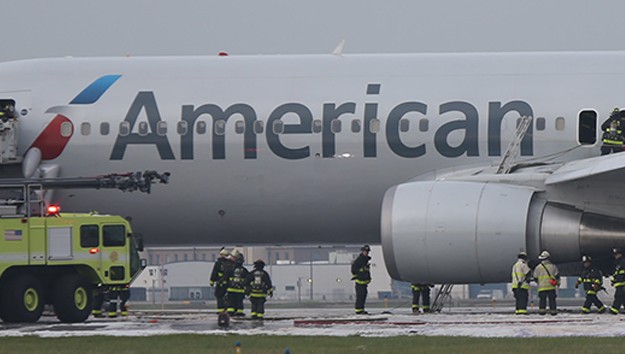 Antonio Perez/Chicago Tribune/TNS via Getty Images(CHICAGO) — The American Airlines Flight 383 fire Friday at Chicago O'Hare International Airport was caused by an "uncontained engine failure," according to the National Transportation Safety Board.
The NTSB said in a news conference Saturday that an examination of the plane found a disk of the engine had failed, causing parts to be blown out of the engine during takeoff. One piece of the engine was found about 2,920 feet south at a UPS warehouse, according to the NTSB, and another was found 0.3 miles away.
The fire did not breach the inside of the cabin, but there was some damage to the fuselage including grazing of the windows, the NTSB said.
Twenty people were hospitalized with minor injuries after rapidly evacuating down slides from American Airlines Flight 383, the Chicago Fire Department said Friday. All were released as of Saturday, the NTSB said.
American Airlines said there were 161 passengers and nine crew members who deplaned on the runway.
Copyright © 2016, ABC Radio. All rights reserved.