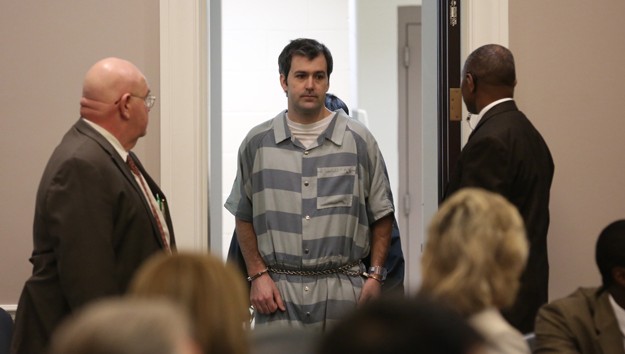 Grace Beahm-Pool/Getty Images(CHARLESTON, S.C.) — As jury selection is underway in two high-profile cases involving white police officers accused of fatally shooting unarmed black men, ABC News Chief Legal Analyst Dan Abrams weighs in on how race, police and national attention could affect the choice of jurors.
In South Carolina, Michael Slager is accused of fatally shooting Walter Scott, an unarmed black man, at a traffic stop in April 2015, when Slager was a North Charleston Police Department officer. Witness video of the incident that surfaced at the time appears to show the moment Slager fatally shot Scott as he ran away. Slager is charged with murder. He has pleaded not guilty.
In Ohio, former University of Cincinnati police officer Ray Tensing is accused of fatally shooting Sam DuBose, an unarmed black man, after Tensing pulled DuBose's car over near the University of Cincinnati in July 2015. Tensing's body camera video shows him shooting DuBose. Tensing is charged with murder and voluntary manslaughter. He has pleaded not guilty.
In Charleston, 188 potential jurors were called this morning for the jury selection process in Slager's murder case. Some people were dismissed shortly before noon.
In Cincinnati, attorneys today began questioning nearly 200 potential jurors for Tensing's case, said ABC affiliate WCPO. The potential jurors filled out questionnaires last week.
In both cases, Abrams said, jury selection is an important factor.
How critical is jury selection in murder cases?
Generally in murder cases, jury selection "can often be the most important point of the trial — you are determining who's going to be the people who are going to decide the fate of the defendant," Abrams said.
"Everyone, judges, jurors, come in with a sense of the world," Abrams said, and both sides — the prosecution and defense — "want to try the best they can to get jurors who share their world view."
What about cases involving race and police?
"The law does not permit lawyers to exclude a juror based on his or her race," Abrams said. "But there's also no question in a case that involves race that both sides will be more than well aware of exactly how many African Americans, and minorities in general, are on the jury."
And in cases that involve police officers such as Slager's and Tensing's, Abrams said that during the jury selection process, both sides will want to focus on what contact prospective jurors have had with police, both good and bad experiences. "Those are going to become critical factors," he said.
These officer-involved shootings garnered national attention — how does that impact jury selection?
"In cases that are so widely reported … the standard is not going to be finding people who know nothing about the case," Abrams said. "The standard is can they find 12 jurors, and alternates, who will be able to objectively evaluate the evidence. That doesn't mean they have to know nothing about it."
Copyright © 2016, ABC Radio. All rights reserved.