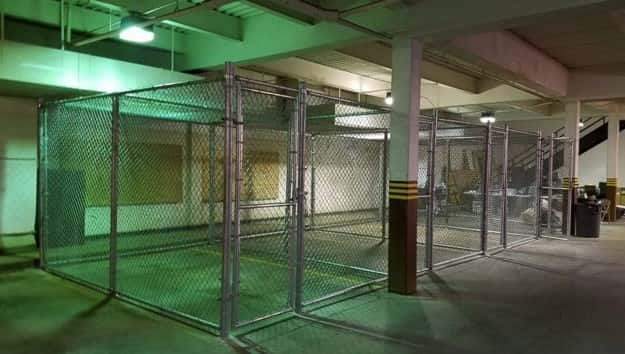 Morton County Sheriffs Department(KINGSTON, N.Y.) — A protester pushing to block the Dakota Access Pipeline in North Dakota said he felt "betrayed" by law enforcement, and described his experience of being held in what many protesters have described as a "dog kennel" for four hours following his arrest.
But state officials refuted the description of the chain-link fence enclosures as "dog kennels," adding that those holding cells are used for "mass arrest" situations only.
The protester's account comes as tensions mount between police and protesters pushing to block the completion of the controversial crude oil pipeline.
"The police are supposed to protect people, and the justice system is supposed to, but they were just working for this corporation," Brendan Rosa, 29, from Kingston, New York, told ABC News, adding that he was "treated like a zoo animal" following his arrest last week along with 140 others.
Rosa said police also wrote numbers directly on the protesters arms for identification purposes. "People were saying that like that is what they did at the Holocaust," he said.
Rosa said there were four enclosures for men and two for women and "15 to 20 people within a kennel."
"I felt like an animal in a cage. I think a lot of us did," Rosa said, noting that he was eventually zip-tied and brought to a jail about three-and-a-half hours away by bus in the early hours of the morning.
Rosa said he was taken into custody last Thursday following the mass arrest of 141 protesters. Heavily armed law enforcement officials moved in on protesters, who call themselves "water protectors," to clear them off of privately owned land in the proposed path of the pipeline.
Demonstrators claimed they had the right to be on the land, citing an 1851 treaty that they say designates the land for Native American tribes.
Rosa said he was charged with two misdemeanors and one felony, and is facing a combined sentence of up to 12 years in jail.
State officials defended the use of the temporary "holding cells."
"Temporary holding cells (chain link fences) have been installed into the Morton County Correctional Center and are used for 'mass arrest' situations only," the North Dakota Department of Corrections and Rehabilitation (DOCR) said in a statement, adding that the "holding cells" were 10 feet by 14 feet.
"They are temporary until the Correctional Center can get them [the people detained in mass arrests] processed into our facility or transferred to another facility in North Dakota," DOCR added.
Tribal Chairman Dave Archambault II has called on the Department of Justice to intervene, citing "militarized law enforcement," and to "send overseers immediately to ensure the protection of First Amendment rights and the safety of thousands here at Standing Rock."
Copyright © 2016, ABC Radio. All rights reserved.