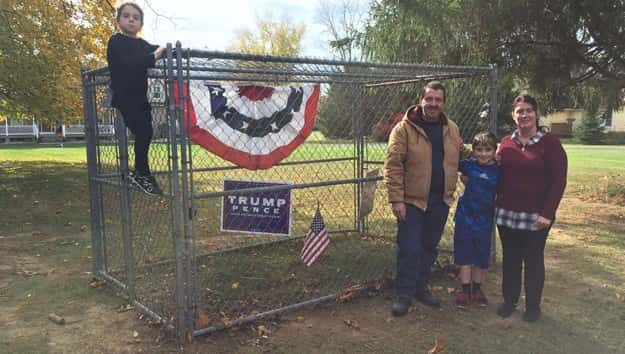 ABCNews.com(FRANKLIN, N.J.) — After six Donald Trump lawn signs were allegedly taken from their yard in Franklin Township, New Jersey, the Paitakis family decided to build electric fencing and a dog cage around their new signs.
"We started out with a smaller [fence], but people were actually crushing it and stealing the signs," said homeowner John Paitakis.
So they installed a camera in a nearby tree and started taking pictures of trespassers to help police identify the potential suspects.
Paitakis did not find much support from one of his liberal neighbors.
"I told [a neighbor] we have our Trump signs in a dog pen, and he says, 'That's right where they belong.'"
Copyright © 2016, ABC Radio. All rights reserved.