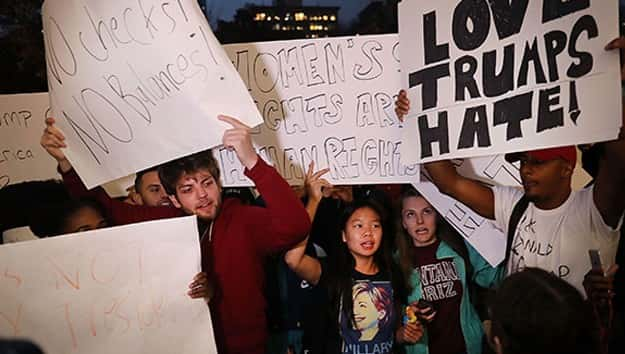 Spencer Platt/Getty Images(NEW YORK) — High school and college students from California to Washington, D.C., held protests on Wednesday to show their opposition to Donald Trump's election as president.
Students at American University in Washington, D.C., protested on campus.
The university tweeted that a community gathering was being held in a chapel on campus Wednesday afternoon.
Following the election and a season of division, it is important for the AU Community to come together. AU is your home; you are not alone.

— American University (@AmericanU) November 9, 2016

Meanwhile, high school students in Berkeley, California, gathered to recite speeches and sing civil rights songs, according to a statement from the school district.
"As educators, counselors, and community members, we need to support our children and each other through what may be a traumatic time for many, and in particular those who have felt targeted and marginalized by divisive rhetoric and actions during this election cycle — black families, immigrant families, Muslim families, women, the LGBTQ community, the disabled — the list goes on," the superintendent said in the statement.
Students at the University of Connecticut organized protests and sit-ins across campus in defiant response to Trump's presidential victory.
University of Massachusetts students gathered at the Goodell Building for Workplace Learning and Management with chants of, "Trump must go!"
Students from Boulder High School organized a "Love Trumps Hate" protest in response to the election results.
Students at two schools in Des Moines protested their concerns about the outcome of the election, according to a statement on the district's facebook page. The statement said the district did not stand in the way of the protests and classes continued as normal.
"The majority of students at DMPS are students of color," according to the statement. "The rhetoric of this past election has caused concerns and divisions among many of them, their friends and their families."
Copyright © 2016, ABC Radio. All rights reserved.