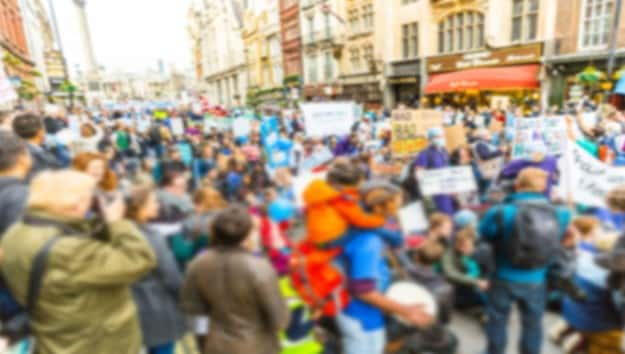 william87/iStock/Thinkstock(NEW YORK) — As thousands of protesters filled the streets of cities across the U.S. Thursday for a second night of anti-Donald Trump protests, the president-elect took to twitter to slam the demonstrations.
Trump tweeted, "Just had a very open and successful presidential election. Now professional protesters, incited by the media, are protesting. Very unfair!"
Just had a very open and successful presidential election. Now professional protesters, incited by the media, are protesting. Very unfair!

— Donald J. Trump (@realDonaldTrump) November 11, 2016

On Thursday night, protesters gathered in Washington, D.C. outside the White House and in New York City in front of Trump Tower, as well as Baltimore, Philadelphia, Los Angeles, Louisville and several other cities to share their distaste for the results of the election. No reports of violence have surfaced so far.
Earlier in the day, hundreds gathered on Pennsylvania Avenue outside of Trump's new Washington D.C.hotel while chanting "I'm still with her," "Love trumps hate," and "Black lives matter."
On the West Coast, hundreds of high school students in San Francisco's Bay Area have staged walkouts to express opposition against President-elect Donald Trump.
Following protests in several cities across the country Wednesday night, students from high schools in the East Bay can be seen on helicopter video taken by ABC's San Francisco station KGO marching toward city hall in Richmond.
There were also protests at high schools in Berkeley and Oakland, KGO reported. About 1,500 Berkeley High School students and some members of school staff staged a walkout around 8:20 a.m. and marched to the University of California at Berkeley, where a much larger demonstration was taking place. The protesters gathered peacefully as police officers looked on.
"Conversations and actions are taking place today in our schools. At Berkeley High, there was a student gathering in the courtyard, including speeches and civil rights songs, and some students joined a walk-out to the UC campus, while others remained on campus in classroom discussions," the Berkeley Unified School District said in a statement.
Hundreds more students took part in protests at multiple Oakland schools, including Bishop O'Dowd High School, where about 60 percent of students left class to assemble in the school's quad. They eventually returned to class, Principal James Childs told KGO.
Hundreds of people gathered outside of downtown San Francisco as well, some holding signs that read "Not My President." The demonstrations stopped traffic as they marched on the normally busy one-way streets.
#MidMarket #sf #protest pic.twitter.com/Ybzr0C7F9j

— jeromeⓋ (@jrrohm) November 10, 2016

On Wednesday night, tens of thousands of people all over the country protested Trump's election victory. Hundreds weer arrested, included dozens in New York City alone, where the majority of demonstrations took place in front of Trump Tower.
The FAA has implemented a temporary no-fly zone over Trump Tower through inauguration day on Jan. 21.
Copyright © 2016, ABC Radio. All rights reserved.