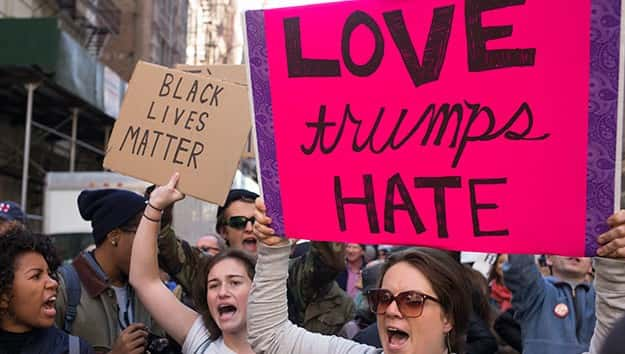 Robert Nickelsberg/Getty Images(NEW YORK) — For the fourth straight day, demonstrators protested President-elect Donald Trump.
In New York City, about 2,000 protesters marched up Fifth Avenue toward Trump Tower, where they gathered outside, according to local ABC-owned station WABC. They held signs that read, "Not my president," "Say no to racism," "We are all human, we all deserve rights" and "Love trumps hate."
Police lined both sides of the streets, but the demonstrators remained peaceful, according to WABC.
The president-elect has been holed up inside Trump Tower with his transition team all day.
The protesters I commiserate with on 5th Ave every day have been a shining example of peaceful Americans trying to make their voices heard. pic.twitter.com/RI9EJJ2MZJ

— Glenn Rockman (@grockman) November 12, 2016
Right now on 5th Ave #elections2016 pic.twitter.com/6F2jQGOuyL

— Talia Abbas (@taliaabbas) November 12, 2016
On 5th Ave. The crowd is unreal. #NotMyPresident #TrumpProtest #StrongerTogether pic.twitter.com/ZakdzUKLYL

— Tiffany Edwards (@pinksteam) November 12, 2016

Demonstrations have been going on across the country in the wake of Tuesday's election results.
Copyright © 2016, ABC Radio. All rights reserved.