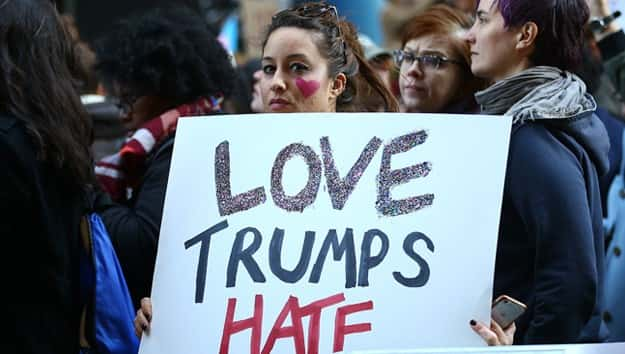 Volkan Furuncu/Anadolu Agency/Getty Images(NEW YORK) — A crowd of immigrants and their supporters that organizers say numbers in the thousands is marching in Manhattan with the intention of sending a message to president-elect Donald Trump that they are "here to stay."
The #HeretoStay march began at Columbus Circle in Manhattan then moved to Trump Tower.
Thousands at NYC #HereToStay #TrumpProtest, walled in by NYPD. pic.twitter.com/VoPADOMK1t

— Keegan Stephan (@KeeganNYC) November 13, 2016
Thousands #HereToStay outside Trump Int'l Tower. #NotMyPresident #DumpTrump https://t.co/tolXRfTh3X pic.twitter.com/tA5N56dBTb

— Tardigrade CERN (@StopMotionsolo) November 13, 2016
The event was organized by immigrant advocacy organizations including Make the Road New York and its chapters in Connecticut, Pennsylvania and New Jersey.
"New Yorkers and communities across the country are standing up in resistance to the anti-immigrant agenda that Mr. Trump has pledged to enact as President—which would include stripping DREAMers of protected status from deportations and tearing apart millions of families through mass deportation," said Make the Road's announcement of the protest.

This is a breaking news story. Please check back for updates.
Copyright © 2016, ABC Radio. All rights reserved.