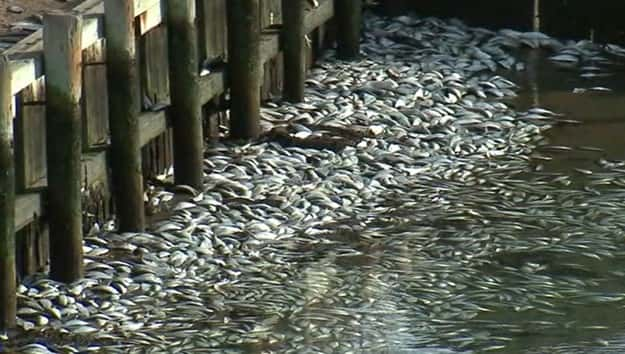 WABC-TV(NEW YORK) — Tens of thousands of dead fish have reportedly turned up in Shinnecock Bay in Hampton Bays, New York, prompting the state's Department of Environmental Conservation to launch an investigation.
Predatory fish likely chased the "large, dense school of bunker (Atlantic menhaden) and other bait fish" into the Long Island bay's canal early Monday morning, state officials told ABC News Tuesday in a statement.
The fish were apparently trapped when the canal gates closed around 3 a.m. A preliminary field analysis suggested that the fish likely died because of "a lack of dissolved oxygen and the high density of fish," the conservation department added.
The dead fish then entered the bay and washed ashore after the canal's gates opened at 10 a.m., state officials said.
The sight and smell of the thousands of dead fish bothered locals on Monday, ABC's New York station WABC-TV reported.
"I don't remember any day or any time like this," Hampton Bays resident Jerry Ippolito told WABC. "This is the worst."
East Quogue resident Nikki Perry added, "I think it's horrible. It's a shame."
But "the fish kill does not suggest any impacts to the health of Shinnecock Bay," state officials said, adding that environmental workers have collected water samples for further analysis.
As a precaution, the Suffolk County Department of Health Services has also collected water samples to test for pathogens, nutrients and pesticides, department spokeswoman Grace Kelly-McGovern said.
The results of the tests will likely be available in a few weeks, Kelly-McGovern told ABC News Tuesday.
Most of the fish are no longer in the bay and have likely sunk to the bottom of the bay, she added, or have been swept back to sea by the tides.
Copyright © 2016, ABC Radio. All rights reserved.