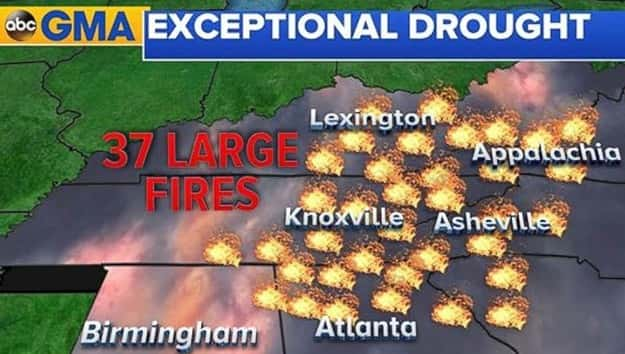 ABC News(NEW YORK) — At least 37 large wildfires are still raging across the United States, with no rain in the forecast this week.
A total of 128,000 acres has burned in the fire zone, which has spread from northern Georgia and eastern Tennessee into eastern Kentucky, the western Carolinas and parts of surrounding states.
Smoke from the fires is causing significant air-quality and visibility issues in the region. Health officials across several states have issued air-quality alerts and advised residents to avoid outdoor activities.
There's still no significant rainfall expected in the parched areas for the next seven days, according to ABC News senior meteorologist Max Golembo.
The fire zone has experienced an intense period of dryness that began in May and intensified throughout the summer, according to NASA's Earth Observatory. Parts of Mississippi, Alabama, Georgia, Tennessee and North Carolina are facing an "exceptional drought," according to the U.S. Department of Agriculture.
Some areas in Georgia have not seen rain for over a month.
North Carolina, Tennessee, and Kentucky have declared states of emergency.
Although a prolonged drought and warm winds are being blamed for the underlying conditions, authorities say some of the wildfires are man-made.
Copyright © 2016, ABC Radio. All rights reserved.