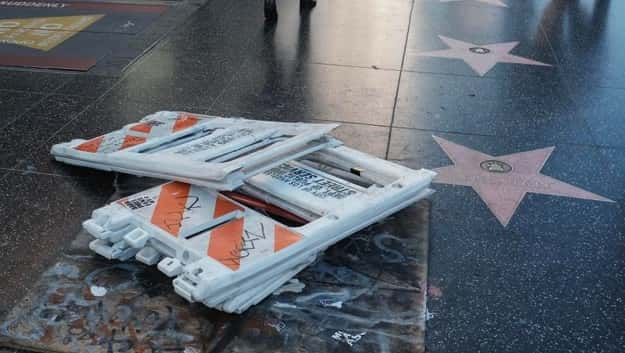 RINGO CHIU/AFP/Getty Images(LOS ANGELES) — A Los Angeles man was formally charged on Thursday with vandalizing Donald Trump's star on the Hollywood Walk of Fame, according to the Los Angeles County District Attorney's Office.
The suspect, James Lambert Otis, 52, faces one felony count of vandalism. He's scheduled to be arraigned Friday, the District Attorney's Office release says.
Otis is accused of using a pickaxe and sledgehammer to smash Trump's star on Oct. 26, according to prosecutors. He then allegedly removed a brass medallion from the middle of the star.
If convicted, Otis faces a maximum sentence of three years in jail. Prosecutors are asking the court to set his bail at $20,000.
The case remains under investigation by the Los Angeles Police Department.
Copyright © 2016, ABC Radio. All rights reserved.