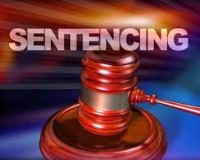 (AP) – A St. Louis man has been sentenced to two years of
unsupervised probation in connection to a November 2015 lockdown of the Lincoln
University campus.
The Jefferson City News Tribune reports that 19-year-old Zaccheus Griffin
pleaded guilty to misdemeanor stealing and resisting arrested.
He was charged with felony second-degree burglary and felony resisting arrest.
Under his probation, Griffin must complete a 16-day shock detention sentence.
Campus police reported that officers were called to a dormitory where a female
student said she saw Griffin, who also was a student, enter her room and take
$80 from her wallet.
Authorities say officers went to Griffin's room to speak with him and found a
.22-caliber semi-automatic handgun and bullets in a gym bag. Authorities say he
ran away, prompting the Jefferson City campus' lockdown.
WebReadyTM Powered by WireReady® NSI