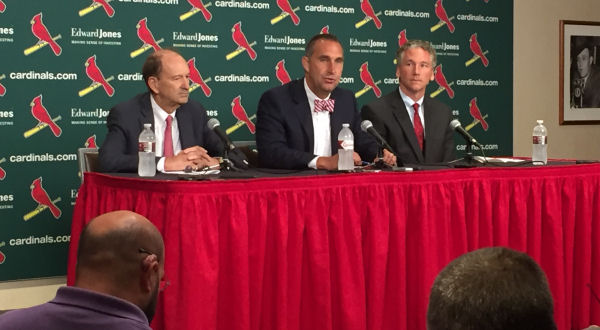 ST. LOUIS, MO — The St. Louis Cardinals announced this afternoon that John Mozeliak has been promoted to President of Baseball Operations for the team, while Michael Girsch has been promoted to Vice-President & General Manager of the club. Both Mozeliak and Girsch have agreed to contracts that will run through the 2020 season.
While other Major League Clubs have had Presidents of Baseball Operations, today's announcement is a first for the Cardinals and is in keeping with an industry that continues to grow and prosper. As President of Baseball Operations, Mozeliak will be responsible for the department, while Girsch will handle the day to day work of the team as the General Manager.
Mozeliak, 48, is a 22-year veteran of the Cardinals front office who has served as the team's General Manager for ten seasons (2008-2017). During his tenure as General Manager, the Cardinals have advanced to the postseason six times, winning a World Championship in 2011, and the National League Championship in 2013. The Cardinals have twice been recognized by Baseball America as the Organization of the Year (2011 & 2013). The prestigious honor recognized the Cardinals for their success in scouting and player development. Mozeliak was named Executive of the Year in 2011 by MLB.com.
Girsch, 41, is an 11-year veteran of the Cardinals front office who has served as the team's Assistant General Manager for seven seasons (2011 – 2017). As the team's Assistant General Manager, Girsch assisted Mozeliak with Major League player transactions and player evaluations, and helps oversee all aspects of Baseball Operations, including amateur and pro scouting, player development, international operations and baseball development. Girsch joined the Cardinals in 2006, starting his career with a two year stint as the Coordinator of Amateur Scouting. In 2008, he was named Director of Baseball Development, and focused on assisting Baseball Operations via internet applications, analytical models and decision support tools. He led the department for three years before his promotion to Assistant General Manager in January 2011.
Prior to joining the Cardinals, Girsch earned a Bachelor of Science in Mathematics from the University of Notre Dame and an MBA from the University of Chicago Booth School of Business. Girsch and his wife Kelly, reside in Webster Groves with their four children.
WebReadyTM Powered by WireReady® NSI