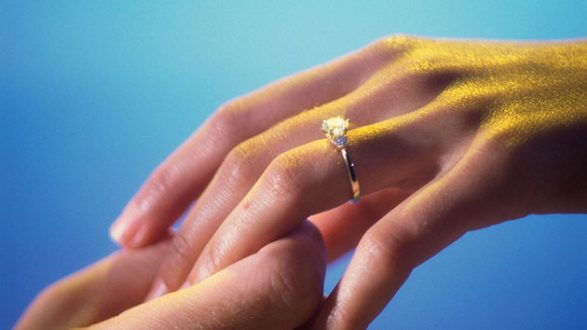 iStock/Thinkstock(NEW YORK) — Jacob Gardner and Whitney Melendres of Newport Beach, California, have had a whirlwind engagement week that included trips to Disney Land to commemorate when he first told her he loved her, to Las Vegas for dinner at the Eiffel Tower Restaurant because, Gardner said, Melendres "thinks Paris is the most romantic place on earth," and to Costa Rica where he popped the question.
Then, in what the bride-to-be thought was the culmination, the happy couple landed in New York City to announce their engagement to their family and friends live on "Good Morning America" on Monday.
But Gardner, 34, had one last surprise up his sleeve for his fiancée, who was diagnosed with chronic myeloid leukemia on July 1, 2016, and is now, he said, "almost in remission" with only a tiny fraction of the leukemia found a year ago still in her body.
"Baby, you've had such a hard year and you've fought leukemia so hard and you're doing so amazing that I wanted this to be the most special event of our lives, so we're not going to just head home to see the family," Gardner told an unsuspecting Melendres on "GMA." "We're going to fly to Paris and we're going to have dinner tonight in the real Eiffel Tower."
Melendres, 29, immediately broke down in tears, unable to muster anything in reply beyond "Oh my gosh."
The groom-to-be said he wanted to make the engagement as wonderful as possible "to replace" memories of certain tough situations Melendres has endured in the past few years.
He proposed on July 1, 2017, exactly a year after her diagnosis.
"In our minds we felt like that was an attack on her body — the day she was diagnosed," he said of the devastating news in 2016. "It was a very difficult, traumatic thing for her, and I wanted to replace that memory for us with new life by proposing."
Gardner arranged to propose at her late father's home in Costa Rica, at a creek behind the house where Melendres laid her dad's ashes to rest after his battle with brain cancer. Melendres told Gardner the house was "the most peaceful place" for her dad, which he had built to aid impoverished youth in the region.
"I wanted to do it at the place where she had spread her dad's ashes because it was a memory of his death and I wanted to incorporate him into our new life together. That was the whole envision," said Gardner. "I always knew that was the one thing she felt like she was missing out on – that her dad wasn't going to be a part of the process where I could ask him for her hand in marriage and walk her down the aisle."
Melendres cannot believe the surprises her husband-to-be has been able to pull off over the past week.
"I was in shock. I'm still in shock," she said of learning she was being whisked off to Paris. "It was almost surreal. Is this really happening? Are we really going to Paris? The whole week has been epic so I didn't expect anything else."
The couple plans to wed this fall in the Malibu area, and has lofty goals to continue their traveling. They want to visit every single country in the world so Melendres can continue her work against human sex trafficking, a cause she was inspired to take on to continue her dad's legacy.
Copyright © 2017, ABC Radio. All rights reserved.