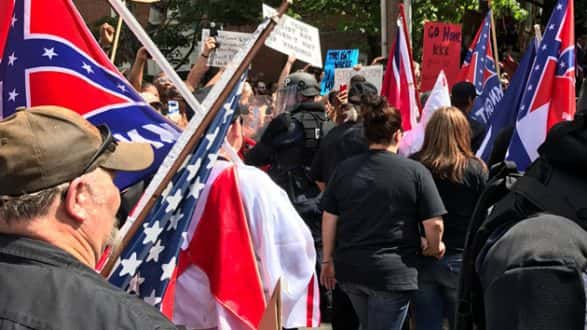 Twitter/VJReports3 (CHARLOTTESVILLE, Va.) — Members of the Ku Klux Klan who gathered for a protest in Charlottesville, Virginia, on Saturday were met by more than 1,000 counter-protesters, sparking confrontations and leading to at least 23 arrests, according to the Charlottesville Police Department.
The KKK members were protesting the removal of a Confederate Gen. Robert E. Lee statue from Emancipation Park, formerly known as Lee Park, ABC affiliate WJLA-TV reports. Police said about 50 Klansmen were in attendance, and KKK officials said before the rally that some would be armed.
Counter-protesters from several activist groups met the KKK in Justice Park, which used to be named after Gen. Thomas "Stonewall Jackson" and is home to a statue of the Confederate general. Police said the KKK demonstrated for under an hour and when they escorted the Klansmen back to where their vehicles were parked, a large crowd tried to block them from exiting.
Charlottesville Police said they used pepper spray to disperse crowds as they moved back toward Justice Park and after they released three canisters of tear gas, the crowd began to leave.
Three individuals were transported to hospitals, two for heat-related issues and one person for an alcohol-related issue, police said.
Copyright © 2017, ABC Radio. All rights reserved.