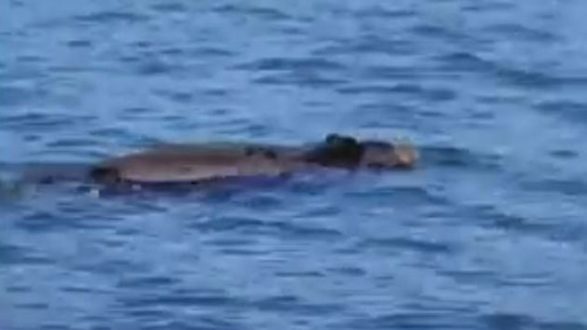 ABC News(BRITISH COLUMBIA, Canada) — Passengers on a whale-watching tour in British Columbia, Canada, got an unexpected surprise when they saw a black bear swimming alongside their boat.
The tourists were near Phillips Arm, off the southern coast of British Columbia, on July 1 when the bear popped up in the water.
As seen in the video posted on Facebook, the bear's nose is barely peeking over the water's surface as it slowly paddles alongside the boat.
Nick Templeman, who is originally from Campbell River, British Columbia, said he couldn't believe what he was seeing at first, and he's been in the whale-watching industry for 19 years.
"When I first went past the bear and saw it, it didn't register right away what I was seeing," Templeman told ABC News. "I actually went a bit past him and then stopped the boat … I reached for the binoculars … and found [I] was not looking at a sea otter swimming on its back, I was looking at a black bear swimming!"
Templeman started to shoot some footage of the encounter.
"So, here we are heading up into Phillips Arm to look for a grizzly bear on the beach, and we have a beautiful little black bear swimming his way over to the beach on the mainland side of Phillips," Templeman can be heard saying in the video.
As Templeman steers the boat closer, the bear starts to huff a bit. Templeman decides to guide the boat a little further away for safety, especially with his dog, Yukon, mindfully watching the bear from the boat's edge.
"[Yukon] started watching the animals and learning what to look for and where to search," Templeman told ABC News. "He … is my chief whale spotter!"
Templeman mentioned on his Facebook post that he has "only ever seen this once and it was a long time ago."
"After we filmed him going past, we backed way off and let him finish up his swim," Templeman told ABC News.
Templeman said the bear eventually swam toward the shore and wandered off.
Copyright © 2017, ABC Radio. All rights reserved.