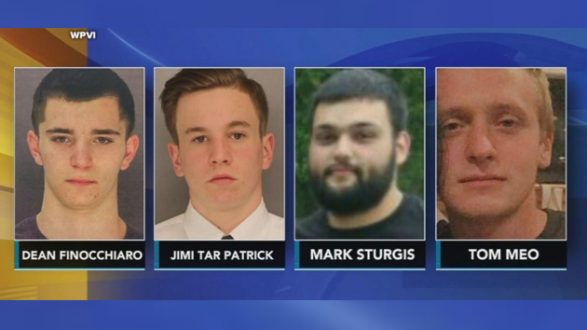 WPVI-TV(PHILADELPHIA) — Authorities in Pennsylvania said they suspect foul play in the disappearance last week of four young men who may all know each other, and that leads in the investigation are "hot" as they comb the area near where they vanished.
Tom Meo, 21, of Plumstead, Mark Sturgis, 22, of Pennsburg, Deam Finocchiaro, 19, of Middletown, and Jimi Tar Patrick, 19, of Newtown Township were all reported missing last week, Bucks County District Attorney Matthew Weintraub said at a press conference on Monday.
When asked if foul play was suspected in the case, Weintraub said, "it sure would seem so," but declined to share further information.
"The leads are incredibly hot, they're very fruitful. We're making great progress, but there's so much more work to do," he said.
"We have information that the four men know each other, but we are not sure if this information is accurate," Weintraub told reporters.
Newtown Township, Plumstead Township, Middletown Township Police and state police are all involved in the joint investigation, Bucks County Assistant District Attorney Gregg Shore told ABC affiliate WPVI-TV.
Sturgis' father said that Meo and his son went missing last week after being seen in the Solebury area, according to WPVI-TV. Mark Sturgis' vehicle was found in the Peddler's Village shopping complex, according to the station. The wooded area being searched is also near Peddler's Village, the station reports.
A missing person's report was filed with the Newtown Township Police Department for Patrick on July 6.
Finocchiaro was last seen around 6:30 p.m. on Friday getting into a car at Hampton Drive in Middletown Township, according to WPVI-TV.
Weintraub said it is "all hands on deck" to find the four men.
"At this point, I ask for your patience and your prayers for these four young men and let us do our jobs," Weintraub said.
An arrest was made at a home on Monday near the property that was being searched. Cosmo DiNardo, 20, was arrested and charged with a firearms possession offense from February. It is unclear if DiNardo is a suspect in the disappearance of the men. He is being held on a $1 million bail for the gun charge.
Copyright © 2017, ABC Radio. All rights reserved.